JACKSON, NJ – Rikin Mehta, a former Obama-era Democrat who recently switched political affiliations to the Republican party is running for office with extremist and activist Alter Eliezer Richter and Harold Herskowitz to challenge the Republican party in Lakewood, Jackson, and Manchester.   Richter, who is not related to CD-3 congressional candidate David Richter, is a well known anti-LGBTQ activist.
Mehta, the former Obama Democrat is running against Atlantic City Conservative Republican Hirsh Singh in the primary election.
With just one day before the election, Mehta is reminding voters to send in their mail-in-ballots for the Mehta Team.
"The Republican primary is only days away! Make sure you have filled out your Ballot for [Team Mehta]."
Mehta may find votes hard to come by in Ocean and Monmouth County where his Ocean County, radical, an anti-homosexual running mate is running against a well-admired Congressman, Chris Smith.
Alter Eliezer Richter, who is running against Smith on the Mehta line is most known for his organized anti-LGBTQ protest of the Lakewood BlueClaws "Pride" Day last summer.  Richter, a disciple of Rabbi Yehuda Levin organized a multi-day protest against the Lakewood Blueclaws last summer.  Levin claims that Hurricane Katrina and Hurricane Sandy were God's answer to hosting gay pride parades.  Many within Lakewood have claimed Richter is not even a rabbi.
Additionally, Rikin's Ocean County slate is challenging longtime Republican Congressman Chris Smith, New Jersey's last Republican congressman after Democrats won all but one election in the 2019 midterms.
Mehta will be on the same ballot line with Richter and Herskowitz, a small business owner in Lakewood Township.
Today, Mehta visited Lakewood Township to rally support and solicit votes two weeks ahead of the July 7th primary.
Hirsh Singh, the Republican Candidate for U.S. Senate in those three Northern Ocean County towns said he is disappointed with Rik Mehta's choice of running mates in Congressional District 3.   Singh is running with President Donald J. Trump, Congressman Chris Smith and Freeholder Joseph Vicari on the Republican ticket.  He said even though Mehta did not win the line in Ocean County, he should not be on a ticket that challenges Congressman Smith.
"I'm not on Chris Smith's line in Monmouth County, but I would never consider putting my name in opposition to Congressman Smith," Singh said. "Congressman Chris Smith is our party's last congressional representative in Washington, D.C. for our party and he's done a great job for New Jersey and America. He has stood behind President Trump. I'm not going to throw a tantrum like Mehta and go against that."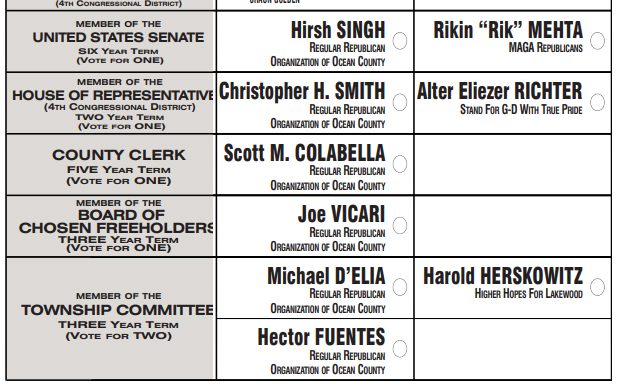 Singh chose instead to run on his own line against Mehta in Monmouth County and to not oppose Chris Smith, earning him a less favorable ballot position.
"Earlier this year, my opponent tried to hide the fact that his campaign consultant, Brandon Kubinak had been kicked out of Monmouth University for a viral video where he was using the very offensive n-word against black people," Singh said."It was only after he was forced to fire the guy that Metha parted ways with him."
Top comments about this post on Facebook.