BERGEN, NJ –  In Bergen County alone, there are 37,000 more ballots left to be counted for the July 2020 election.   In Ocean County, election officials say at least 20,000 ballots remain uncounted.  No provisional ballots have been counted anywhere in New Jersey, according to election officials statewide and one election commissioner went on the record to say it's absurd to call a winner at this point even though the liberal mainstream media has called the race.
With lifelong Democrat Rikin Mehta ahead of Hirsh Singh in the Republican U.S. Senate race with 14,000 votes and more than 100,000 left to be counted, there's still hope for conservative candidate Hirsh Singh.
"You cannot call this election, there are too many outstanding ballots. It would The difference is too small for a statewide race," said Bergen County Election Commissioner Richard Miller. "It would be absurd for anyone to call this race."
Miller said his team won't be finished with the ballot count until Wednesday because timely mail-in ballots are accepted until July 14th by election officials statewide.
Other commissioners said, off the record, that every vote will be counted, regardless of the Associated Press calling the race.
"We have a legal job to do and we just don't stop counting ballots because somebody in the media called a race," one election official told Shore News Network. "Every vote counts."
In Ocean County, election officials there said roughly 20,000 ballots are left to be counted in a county that Singh had a commanding 75% advantage.
All of the counties said they will begin counting tens of thousands of provisional ballots that have not yet been counted from voters who voted at the polls on Election Day.
Stephen Ohlemacher, the head of the Associated Press election "calling" department is the individual who called the race.  After an Associated Press one line story was published on Friday, media across the nation began echoing their declaration.
In the end, this could be another "Dewey Defeats Truman" moment for the liberal national media who wishes to sink conservative candidates nationwide, but even Rik Mehta hasn't declared victory just yet.   Mehta's last public message to voters was July 8th, thanking his supporters for casting their votes in the election.
We reached out to Rikin's campaign for comment, but they have refused to give a statement on the perceived election victory.
"Rikin Mehta has not won the primary," said his opponent Hirsh Singh.  "There are upwards of 100,000 outstanding ballots that have not yet been counted."
Hirsh said he's not ready to concede to Rikin until all of the ballots across the state have been counted and every voice in New Jersey has been heard.
"Every voter's voice is important," Singh said.  "With as many as 100,000 ballots left to be counted, we cannot silence those voters, this is the very thing every voter in New Jersey worried about heading into this mail-in ballot election…is my voted actually going to be counted?  So let's just wait until every voice in New Jersey is heard early next week, and let's not throw out their ballots just because the media said so."
Singh also said he was in contact with election board officials across the state after reading the Associated Press story.   He said the AP did not call him for a comment on the story.
Election officials said a winner in this race may not be known until July 22nd for sure.
"All of the election officials I spoke to on Friday said an unknown number of mail-in ballots will be arriving through Tuesday, the 14th," Singh said. "Most Board of Elections officials I spoke to said they will scan them on Wednesday the 15th. The tens of thousands of provisional ballots, voters that voted on Election Day, have not been counted either and will only be scanned in on the 22nd."
Singh said the liberal media is of course trying to paint the picture that former Obama-era Democrat Rik Mehta won this election, because it's the narrative they need for Cory Booker to win his re-election.
"Whatever source you are using has been either tricked or doesn't understand the current political set up, this is not like any other election in our nation's history and the margin is too small at this point with the number of outstanding ballots," Singh said.  "It is too early to call a statewide race with a less than 13000 ballot lead when over 100,000 votes outstanding.  There were 360k votes for President Trump in 2016 and 477k overall.  We can expect at least 100k more votes up to 250k more votes. No one can call this race."
Singh said he will wait for all ballots to be counted before making a statement on the outcome of the election.
"Just like every other election in our nation's history, we wait until every voice is heard before determining a winner," Singh said.
The source of the confusion lies with a cryptic one-sentence report filed by Ohlemacher at the Associated Press, "Rikin Mehta wins Republican Senate primary in New Jersey."
That headline was followed by a story that contained only the headline.    An AP employee who answered the phone at the D.C. office said their staff has "race callers" in every race and they comb through election data to make their decision and that's how the news agency declared the winner, with about half of the votes counted.
As far as the AP being a reliable source for calling elections, we'll leave you with this gem from the news agency from 2016.
"A new Associated Press-GfK poll released Wednesday finds that Clinton has grabbed significant advantages over her Republican rival with just 12 days left before Election Day. Among them: consolidating the support of her party and even winning some Republicans," the AP published days before the 2016 Presidential election.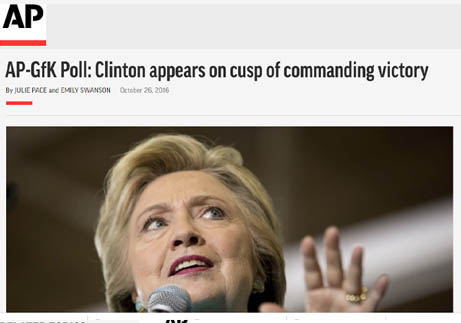 Top comments about this post on Facebook.