TOMS RIVER, NJ  – Former Obama Democrat Rikin Mehta today declared his victory against Conservative Republican Hirsh Singh for the U.S. Senate Republican primary race.
"Thanks to your support and the support of patriots across New Jersey we are one step closer to making New Jersey a place to live, not leave," Mehta said. "I could not have won this race without supporters like you. We have a long road to November ahead of us, and there will be many more political emails to come."
Thousands of Ballots Lost, Burned and Disqualified
Mehta's victory speech came one week after the primary election and on the last day mail-in ballots would be accepted by county clerks from the U.S. Postal Service.  It also comes the day after New Jersey Senate and Assembly Leaders sharply criticized the July mail-in-ballot election as nearly 100,000 votes remained uncounted, tens of thousands were disqualified by election officials, misprints, miscounts and returned mailings were prevalent.
Cory Booker Outperformed Republicans in New Jersey 2 to 1 in Mail-in-Ballot election
Mehta faces an impossible battle as Cory Booker received over 500,000 votes statewide to Mehta's 100,000, a 5 to 1 margin.  Statewide Democrats in New Jersey outvoted Republicans by a 2 to 1 margin.    Mehta has been under fire for his lifelong membership in the Democrat party and his work history as an underling for President Barack Obama and hardcore D.C. leftist Mayor Muriel Bowser.  Mehta served in Bowser's administration as a ranking member of the city's health department.   Bowser is most recently known for urging an attack on the White House and President Donald J. Trump during the Black Lives Matter riots.
Mehta's Rocky Road Included "N-gger" Video by Campaign Staffer Going Viral
Mehta's campaign was full of bumps.  First, Mehta had to fire his lead campaign consultant, Brandon Kubinak after Kubinak's video of him and other white friends repeating the term "n-gger" over and over went viral. Kubinak was later expelled from Monmouth University over his racial tirade.  It wasn't until many weeks of stories by Shore News Network that Mehta begrudgingly and secretly fired Kubinak.
Don't believe it? Check out Kubinak's "N-gger" video here.
The Republican Party, in an attempt to protect Mehta whitewashed Kubinak's "N-gger" video.    Both GOP State Chairman Doug Steinhardt and Monmouth County GOP Chairman Shawn Golden refused to comment when asked about the video by Shore News Network on multiple occasions.
Mehta Got Crushed in the Highly Coveted Ocean County Race
Governor Chris Christie credits his political existence to Ocean County voters.  Ocean County, which is the conservative Alamo of New Jersey is vital in winning elections.  Mehta got smoked in Ocean County as a conservative guerilla war was launched against the moderate party leaders.  That war ended with the people unseating Mehta who had the strong support of party leaders on t he ballot.
In Ocean County, Mehta suffered a 75% defeat to Hirsh Singh in the predominantly Republican and conservative stronghold.  Mehta's poor ballot choice in Ocean County pitted him against Congressman Chris Smith where he aligned with two Orthodox Jewish community renegades Harold Herskowitz and a well-known anti-homosexual activist.
Mostly, Mehta won the support of North Jersey Republicans, who tend to lean moderate to left on the political scale on that side of the aisle.  He had the backing of former Governor Chris Christie and William Palatucci, both of whom make establishment Republicans quiver in their boots.
Back to Cory Booker and His 2 to 1 margin and $10,000,000
In the election, Booker received 551,000 votes statewide compared to a grand total of just 235,433 ballots received statewide for all three Republican challengers.   In that race, former Obama advisor and Democrat Rikin Mehta leads, with 101,332 votes.  Hirsh Singh has 87,867 and Patricia Flanagan has 46,324. The nearly 2 to 1 difference could mean game over for the Republican Party, regardless of who the candidate is in November.  A Rikin Mehta campaign could fare far worse than Bob Hugin's failed U.S. Senate run in which he lost to New Jersey Senator Bob Menendez.
In that election, Hugin spent $40,000,000 to lose by 400,000 votes to the highly unpopular Democrat.
Cory Booker this cycle raised $10,908,350 and spent $8.8 million.  He brings a $2.9 million war chest into the November election.
Can Republicans Beat Vanilla with French Vanilla?
On the other side of the aisle, Rikin Mehta, who until just a few years ago was also a Democrat with Cory Booker raised just $399,000, most of which was his own money. Mehta raised less than $50,000 from contributors during his campaign.  He has just $48,214 in his campaign account, leaving him essentially broke in the world of politics.  Rik Mehta now has a campaign bank account that has little more than gas money left in it.
Stuart Meissner, another failed candidate and former Democrat in the election, whose short-lived failed campaign for U.S. Senate raised $188,000, mostly his own money also left the race nearly bankrupted.
New Jersey Assemblyman Michael Testa, the new conservative poster child of the New Jersey GOP said the key to his success against Democrats was by being a conservative.
"You can't beat vanilla with French Vanilla," Testa said.
Now, the party is running French Vanilla, Mehta against vanilla, Booker for U.S. Senate and expecting a different outcome than when Bob Hugin spent $40,000,000 to lose to Robert Menendez.
When to Call a Race?
The future is grim for New Jersey Republicans who now have less than four months to raise millions of dollars against the powerful Democrat political machine of New Jersey and Cory Booker.  The question will be, will anyone donate money to Mehta after he was unable to mount a sizable campaign against Singh, and leads a statewide election by a narrow margin of 13,000 votes, with 100,000 left to be counted.   When you factor in the COVID-19 crisis and its financial impact on New Jerseyeans, will anyone be willing to now open their wallet for Mehta?
The answer is probably not and if Phil Murphy declares November to be a mail-in election ballot, it's alavida, Rik Mehta and Hirsh Singh can roll a successful independently-run campaign into a gubernatorial campaign to challenge Phil Murphy head-on in 2021.
If Republicans are ready to call an election with at least 30% of ballots left uncounted, then we're calling the November election, Cory Booker wins, because once again the party nominated and supported the "French Vanilla" guy.
Republicans Lash Out at Mail-in Election
This week, New Jersey Senator Michael Testa, a Republican, declared the vote-by-mail election held last week has been plagued with fraud, failure and it is broken.  This comes as his party's own U.S. Senate election race hangs in the balance as hundreds of thousands of ballots remain uncounted and many ballots are not being counted.
In response to various vote-by-mail issues during this year's primary election, Testa emphasized the need to ensure New Jerseyans are allowed to vote in-person at their local polling places in November's general election.
"The many failures of New Jersey's vote-by-mail scheme, including voter fraud and errors in counting ballots, are on full display and must not be repeated," said Testa. "Our upcoming general election is too important to entrust to a broken vote-by-mail system. Ensuring that future elections are held in-person will restore New Jersey's election integrity and voter confidence in our democracy."
As a result of Governor Phil Murphy's executive orders, residents were restricted from voting in person in New Jersey's primary election with few exceptions. Testa had called upon the U.S. Attorney for New Jersey to monitor this election to prevent voter fraud and ballot tampering.
That help never came.
He, Assemblyman Antwan McClellan, and Assemblyman Erik Simonsen outlined the recent and numerous cases of voter fraud in New Jersey.
"The recent revelations of alleged voter fraud in several cities in New Jersey spurred us to call on the federal government to protect the sanctity of voter choice in our upcoming elections, which will be dominated by mail-in ballots," said McClellan. "Every voter counts and their vote should be counted, too."
"Our aim is to get the full Legislature to say, with one bi-partisan voice, that we will not allow voter fraud to disenfranchise voters in any city, township or borough in our state," said Simonsen. "Voter fraud should be condemned across the aisle. We hope our colleagues will endorse this resolution and stand with us for fair elections."
In Atlantic County, more than a thousand mail-in ballots cast in the recent primary were misread and must be recounted according to news reports.
New Jersey's primary election – historically held in early June – was pushed back to July 7, the same date that Motor Vehicle Commission (MVC) agencies opened for the first time in months.
"It was hypocritical for the governor to force people to wait in long lines outside crowded MVC agencies while simultaneously saying it was too dangerous to let them quickly cast a vote at a local polling center," added Testa. "We continue to see story after story detailing how New Jersey's flawed vote-by-mail process continues to be wrought with errors. There's absolutely zero excuse to not let voters cast their ballots in-person through the proven process that everybody trusts."
Every Vote Counts
In Bergen County alone, there are 37,000 more ballots left to be counted for the July 2020 election.   In Ocean County, election officials say at least 20,000 ballots remain uncounted.  No provisional ballots have been counted anywhere in New Jersey, according to election officials statewide and one election commissioner went on the record to say it's absurd to call a winner at this point even though the liberal mainstream media has called the race.
With lifelong Democrat Rikin Mehta ahead of Hirsh Singh in the Republican U.S. Senate race with 14,000 votes and more than 100,000 left to be counted, there's still hope for conservative candidate Hirsh Singh.  State Republicans don't want to see those votes counted and continue parading behind the Mehta victory.  Will Mehta win? Maybe? Probably, but to see Republicans ready to toss 100,000 ballots into the trash is disturbing to watch, even if they are of the French Vanilla blend of former Democrats turned Republican.
"You cannot call this election, there are too many outstanding ballots. It would The difference is too small for a statewide race," said Bergen County Election Commissioner Richard Miller. "It would be absurd for anyone to call this race."
Miller said his team won't be finished with the ballot count until Wednesday because timely mail-in ballots are accepted until July 14th by election officials statewide.  No winner will be announced until all ballots are counted and certified after July 22nd.
Other commissioners said, off the record, that every vote will be counted, regardless of the Associated Press calling the race.
"We have a legal job to do and we just don't stop counting ballots because somebody in the media called a race," one election official told Shore News Network. "Every vote counts."
In Ocean County, election officials there said roughly 20,000 ballots are left to be counted in a county that Singh had a commanding 75% advantage.
All of the counties said they will begin counting tens of thousands of provisional ballots that have not yet been counted from voters who voted at the polls on Election Day.
Stephen Ohlemacher, the head of the Associated Press election "calling" department is the individual who called the race.  After an Associated Press one line story was published on Friday, media across the nation began echoing their declaration.
In the end, this could be another "Dewey Defeats Truman" moment for the liberal national media who wishes to sink conservative candidates nationwide, but even Rik Mehta hasn't declared victory just yet.   Mehta's last public message to voters was July 8th, thanking his supporters for casting their votes in the election.
We reached out to Rikin's campaign for comment, but they have refused to give a statement on the perceived election victory earlier in the week.
"Rikin Mehta has not won the primary," said his opponent Hirsh Singh.  "There are upwards of 100,000 outstanding ballots that have not yet been counted."
Hirsh said he's not ready to concede to Rikin until all of the ballots across the state have been counted and every voice in New Jersey has been heard.
"Every voter's voice is important," Singh said.  "With as many as 100,000 ballots left to be counted, we cannot silence those voters, this is the very thing every voter in New Jersey worried about heading into this mail-in ballot election…is my voted actually going to be counted?  So let's just wait until every voice in New Jersey is heard early next week, and let's not throw out their ballots just because the media said so."
Singh also said he was in contact with election board officials across the state after reading the Associated Press story.   He said the AP did not call him for a comment on the story.
"All of the election officials I spoke to on Friday said an unknown number of mail-in ballots will be arriving through Tuesday, the 14th," Singh said. "Most Board of Elections officials I spoke to said they will scan them on Wednesday the 15th. The tens of thousands of provisional ballots, voters that voted on Election Day, have not been counted either and will only be scanned in on the 22nd."
Liberal AP Calls Election Early, Everyone Followed
Singh said the liberal media is of course trying to paint the picture that former Obama-era Democrat Rik Mehta won this election, because it's the narrative they need for Cory Booker to win his re-election.
"Whatever source you are using has been either tricked or doesn't understand the current political set up, this is not like any other election in our nation's history and the margin is too small at this point with the number of outstanding ballots," Singh said.  "It is too early to call a statewide race with a less than 13000 ballot lead when over 100,000 votes outstanding.  There were 360k votes for President Trump in 2016 and 477k overall.  We can expect at least 100k more votes up to 250k more votes. No one can call this race."
Singh said he will wait for all ballots to be counted before making a statement on the outcome of the election.
"Just like every other election in our nation's history, we wait until every voice is heard before determining a winner," Singh said.
The source of the confusion lies with a cryptic one-sentence report filed by Ohlemacher at the Associated Press, "Rikin Mehta wins Republican Senate primary in New Jersey."
AP Declared Hillary Clinton Winner of 2016 Presidential Election
That headline was followed by a story that contained only the headline.    An AP employee who answered the phone at the D.C. office said their staff has "race callers" in every race and they comb through election data to make their decision and that's how the news agency declared the winner, with about half of the votes counted.
As far as the AP being a reliable source for calling elections, we'll leave you with this gem from the news agency from 2016.
"A new Associated Press-GfK poll released Wednesday finds that Clinton has grabbed significant advantages over her Republican rival with just 12 days left before Election Day. Among them: consolidating the support of her party and even winning some Republicans," the AP published days before the 2016 Presidential election.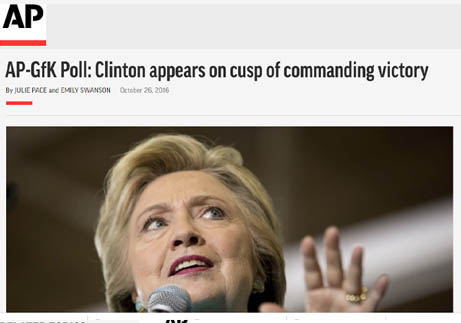 #FuckStuartMeissner
Top comments about this post on Facebook.