TOMS RIVER, NJ – As the 2020 Ocean County Republican primary election approached, a bombshell news story in the Asbury Park Press revealed that former Burlington County Freeholder Kate Gibbs had a criminal rap sheet. That story turned out to be a Valentine's Day massacre for Gibbs, published on Valentine's Day, February 14th. The next day, the Ocean County GOP leadership committee endorsed Gibbs for Congress.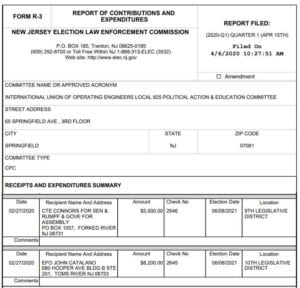 Few rank and file Republicans could figure out how their leadership could make a choice that contradicted common sense. Gibbs was damaged goods, but the executive leaders of the party tied their anchor to Gibbs. On March 4th, the party overrode the executive team's endorsement and endorsed Hill Financial CEO David Richter, not Gibbs. Still, many couldn't figure out why New Jersey State Assemblymen Greg McGuckin, John Catalano, Rumpf, Assemblywoman DiAnne Gove and Senator Chris Connors continued to endorse Gibbs even today.
A New Jersey Election Law Enforcement Commission filing by the union that Gibbs operates, the International Union of Operating Engineers Local 825 Political Action and Education Committee might explain why these assembly Republicans haven't waivered from Gibbs.
Combined, they received $13,200 from that union where Gibbs is employed as Deputy Director.
Gibbs paid Connors, Rumpf and Gove $5,000. She paid Catalano and McGuckin $8,250 shortly after things went south for her after the February 14th Asbury Park Press story. They all received checks 13 days later, on February 25th.
Attributions in this article: Map data ©2019 Google, Photo © BigStock Photos. Hand out photos courtesy of reporting agency. Press releases are the intellectual property of the issuing agency or corporation. Please report any photo, copyright or intellectual property violations to news@shorewsnetwork.com.