OCEAN COUNTY, NJ – Rory Hamill served with 2nd Battalion, 8th Marines during his combat deployment to Afghanistan in in 2009.  He returned home from war as an amputee and went on to become a veteran's mental health advocate. Hammil was a motivational speaker and veteran mentor with the Ocean County Prosecutor's Office Veteran's Diversion Program.    After returning home from Afghanistan, Hammil went to college and earned a degree in social sciences.
Nine years ago, in Afghanistan, Hammil stepped on an improvised explosive device on a foot patrol in Afghanistan.
"About seven years ago, I tried to take my own life," Hamill said just this past February. "After dealing with immense mental anguish, moral injury, anxiety, depression, and Post Traumatic Stress from my childhood, previous deployments, and finally my injury, I had enough. I sat outside Atlantic City, on the side of the road, with my handgun. Dead set, I placed it in my mouth, and began saying my mental goodbyes. Then my kids popped in my head. I pulled it out, disassembled it completely, took every round out of the magazine and threw pieces all over the car, and proceeded to get slammed by the gravity of what I almost did."
"Today, I learned that my friend, Rory Patrick Hamill, took his life yesterday," said his close friend Jase Wheeler. "Have no idea what triggered him, but can say, I totally understand what it's like when you battle PTSD on a daily basis. Add to that, the fact we have to quarantine, change every part of our daily routine, can't get out to see friends, unable to do all the things that allow us to de-stress. It's brutal. He was a father of 3, a motivational speaker, a hero and a friend."
"We are forever indebted to Rory for his contributions to our community and his dedication to our country. Rory dedicated his life to helping other Veterans," Ocean County Prosecutor Bradley Billhimer said of Hamill's passing.
"You really gotta wonder when our country is going to start taking mental health seriously and when I say seriously, I mean actually start dedicating resources to the issue. Not only is it the veteran suicide statistic that terrifying but then over half of all firearm-related deaths are suicide, and so much more," one upset veteran said. "Our country is basically doing nothing. If seeing a mental healthcare professional isn't covered by your insurance (if you have the good fortune of having health insurance), good luck paying for it or getting into see someone through the various reduced cost resources that are already stretched to the breaking point."
"Rory walked with the broken, he jumped in the hole to fight demons with many…. our Veteran community is left with a huge void that we all must work to close ranks and fill," said another comrade of Hamil's, Tim Hickey. "I don't know how to fix this fight in our favor, but I want every one of you warriors out there to know that you are loved, and this world needs us all now more than ever. Please please if you start to feel like your darkness knows no other end, call on your brothers. We will ALWAYS be there- I will always be there. We cant save the world for anyone, without you."
Hamil, who was somewhat of a celebrity in the U.S. veteran community personally received his combat medals and awards from former President Barack Obama.  Instead of descending into darkness, an easy path for many combat veterans suffering from PTSD, Hamill ascended, helping others cope and he went on to become one of the nation's top veterans advocates for PTSD and was a well respected motivational speaker.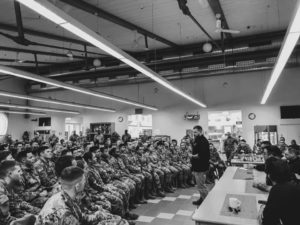 According to the American Psychological Association, Posttraumatic Stress Disorder is an anxiety disorder that can develop after exposure to a terrifying event or ordeal in which grave physical harm occurred or was threatened. Traumatic events that may trigger PTSD include violent personal assaults, natural or human-caused disasters, such as terrorist attacks, motor vehicle accidents, rape, physical and sexual abuse, and other crimes, or military combat.
"Those suffering from PTSD can have trouble functioning in their jobs or personal relationships," the APA said. "Many people with PTSD repeatedly re-experience the ordeal in the form of flashback episodes, memories, nightmares, or frightening thoughts, especially when they are exposed to events or objects that remind them of the trauma."
For many of America's Afghanistan and Iraq combat veterans, PTSD has been a silent killer that is slowly thinning the ranks of veterans across America.  One problem is there's still a stigma among some that seeking help for PTSD is a sign of weakness, but in recent years, the veteran community has begun to open up about the real life effects of PTSD.   The Veterans Administration historically has not properly treated many veterans suffering from PTSD.
In 2008, a senior official at the Veterans Administration urged employees not to diagnose veterans with PTSD.
"Given that we are having more and more compensation seeking veterans, I'd like to suggest that you refrain from giving a diagnosis of PTSD straight out. Consider a diagnosis of Adjustment Disorder, R/O PTSD," said Doctor Norma Perez. ""Additionally, we really don't or have time to do the extensive testing that should be done to determine PTSD"
In the twelve years since, some progress has been made at the VA.  If you know of a veteran or if you are a veteran suffering from PTSD, visit this page from the VA regarding PTSD treatment and support options that are available.