BIRMINGHAM, AL – An Alabama woman, minding her own business while shopping for essential supplies to keep her family alive during the coronavirus pandemic was brutally assaulted and bodyslammed by a Birmingham police officer, simply because she refused to wear a face mask in the store.  That's the story the mainstream media is pushing today, but what really happened?  Why was she slammed to the ground?  The Birmingham Police Department now provides the world with the rest of the story that has gone untold in many online, social media and media accounts. Watch the video then scroll down for the full story.
https://www.facebook.com/105006297878053/videos/566440630932826/
"The reason for the officer's contact was disorderly conduct and not just the mere violation of the face covering ordinance. We understand we're operating in trying times," the department said.
In fact, since the COVID-19 pandemic began and the state enacted shelter-in-place laws and face-covering laws, the department said not a single person was issued a citation or arrested for violating those laws in the city.   The city has maintained that the role of the police department in enforcing those laws remains one of compliance through community education.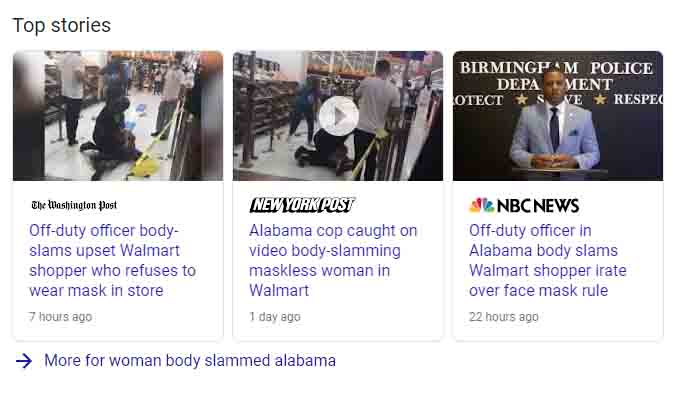 The department said the untold story goes like this.  On Tuesday, an off duty Birmingham police officer who was working security for Walmart heard screams and found a woman yelling obscenities at a store employee in front of other customers.  After being approached by the officer to calm down, she was asked to leave the store, but she refused.  The department said the woman was then being detained at that point by the officer and continued to resist and act in an aggressive and disorderly manner.
"The officer used a takedown tactic due to the other threat factors in the store.   The subject was not injured and refused medical attention," the department said. "The incident happened when a Walmart employee suggested to the woman to wear a face mask while in the store."
After the interaction with the store associate, the individual became disorderly.  She was arrested and charged with disorderly conduct, resisting arrest, possession of marijuana, trespassing, and possession of a controlled dangerous substance.
The department said the officer's conduct is also being investigated, as is standard procedure to ensure the use of force in the situation was justified to protect the public and to ensure the safety of the arresting officer.
https://www.facebook.com/105006297878053/videos/248884043131005/