TOMS RIVER, NJ – Mayor Maurice Hill is calling for the resignation of Toms River Councilman Daniel Rodrick.  Hill remains furious after he Rodrick exposed a plan for Hill to hire his close personal friend, Assemblyman Gregory P. McGuckin to a $250,000 per year job in town hall.  McGuckin already holds 24 public jobs in addition to being an elected assemblyman in New Jersey.
Corrupt Mo Hill Tried to Give Friend $250,000 a year job
Hill accused Rodrick of leaking information discussed between himself and the Toms River Township council in a closed-door meeting.  In that meeting, the township elected body discussed stripping MUA commissioners of their medical benefits unless that body also hired McGuckin as their legal council, which would have been McGuckin's 26th job after Hill gave him the town hall job.     Rodrick to this day denies there was any leak, but accused McGuckin himself of being the leak after McGuckin allegedly had breakfast with Toms River MUA Commissioner Carmen Memoli.   According to Rodrick, McGuckin allegedly leaned on Memoli to replace current MUA Robert DiBiase with a person of McGuckin's liking, in order to ensure McGuckin got the public job at the MUA.    It was highly unlikely that with DiBiase as commissioner, McGuckin would have landed the job at the MUA.
"At the time of our breakfast meeting, DiBiase had already submitted his letter of retirement," Memoli said. "Furthermore, DiBiase did not and does not do the hiring of professionals at the MUA. This is done by the five voting Commissioners."
Memoli said the MUA's General Council is James Gluck, Esq and Joseph Coronato, Esq was recently hired as a conflict council.
"The MUA has no need to hire Greg McGuckin and has never entertained such," Memoli said.
McGuckin Accused of Extortion
Now, Hill and the Toms River Council want to punish Rodrick for blowing the whistle on what is turning out to be a pay-to-play extortion scandal by McGuckin, who is seen by many as the most powerful Republican in Ocean County politics.
It's not the first time McGuckin bullied his way to getting jobs in Ocean County.  After winning the election for Ocean County GOP Chairman, Frank B. Holman enabled McGuckin's reign of terror against mayors, councilmen, school board members and more, in order to secure jobs once held by former GOP Chairman George Gilmore.  In Gilmore's absence, McGuckin gobbled up all of Gilmore's former accounts, sometimes using heavy-handed extortion style tactics against mayors and elected officials in order to secure those jobs in behind-closed-door meetings.  Those meetings were held under the guise of political party caucuses.
Has Mo Hill Sold His Soul?
Rodrick alleged McGuckin attempted to extort Memoli to gain Memoli's favor at that breakfast, in order to secure a lucrative legal contract at the Toms River MUA.  This would be the second time Hill has censured Rodrick.  In 2019, Hill moved to censure Rodrick after Rodrick exposed Hill's unethical relationship with Orthodox Jewish Synagogue builder Scott Gartner.  Gartner had threatened to sue Toms River if the town did not allow him to build a house of worship outside of the township's long-established 10-acre zoning restriction.  Hill accepted over $10,000 in pay-to-play campaign donations from Gartner during that election.  Hill censured Rodrick after a postcard was mailed depicting a picture of Mo Hill smiling and shaking hands with Gartner.  Since then, Mo Hill has tried tirelessly to convince the Toms River Township Council to reduce the minimum acreage on houses of worship in the community.  Last summer, Hill became irate after his proposal to lower the zoning to two acres was made public before a township council meeting to change the zoning.  Hill has since signaled that the zoning change for Gartner is inevitable.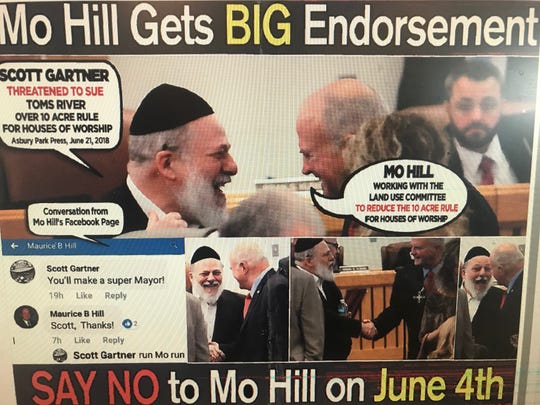 Rodrick has not been the class favorite in the world of politics since steamrolling Kevin Geoghegan in the 2017  Toms River Council election.  Now, Geoghegan, Hill and their allies in town hall, Matt Lotano, Laurie Huryk, Terrance Turnbach and Josh Kopp have united against Rodrick, who poses a political threat to the establishment status quo and pay to play corruption that has infected Toms River town hall.   Rodrick also opposed Mo Hill's plan to turn downtown Toms River into a city filled with hi-rise apartment buildings.