Toms River, NJ – Quarantine is unofficially over and it's looking to be another nice weather weekend at the Jersey Shore, so while you're down here, in the towns that aren't still police states, here's our top 10 picks for best pizza at the Jersey Shore and 10 places you should visit this summer if you're into pizza.    In no particular order, here they are. Photo by Alexandra Gorn on Unsplash
Federico's,  Belmar

Federico's pizza is located in downtown Belmar not only boasts a world famous pie, but owner Mike Morin and his team have been awesome to their employees during this crisis.  Morin and the owners of Federico's took out a $50,000 line of credit to pay employees.   If that's not a reason alone to check them out after the quarantine, I'm not sure what is.  Like all Jersey Shore restaurants, Federico's survived Superstorm Sandy and will survive the coronavirus.
The restaurant set is in the quaint harborside downtown Belmar village just a block away from the marina and down the street from the wonderful boardwalk in Belmar.
The pizza here is a great representation of Jersey Shore pizza with a great crust with a crisp and if you like cheese, Federico's is your place.  Inside, you get an instant Jersey Shore vibe.  So when the weather gets nice and we're released from captivity, you can make an entire day out your visit to Federico's with a beach and boardwalk day trip.
Federico's boasts a 4 star rating on Yelp!
Our Pizza Score:  Pizza 7.5  |  Service 8.4  |  Dining Atmosphere 9.4

Brooklyn Square, Jackson Township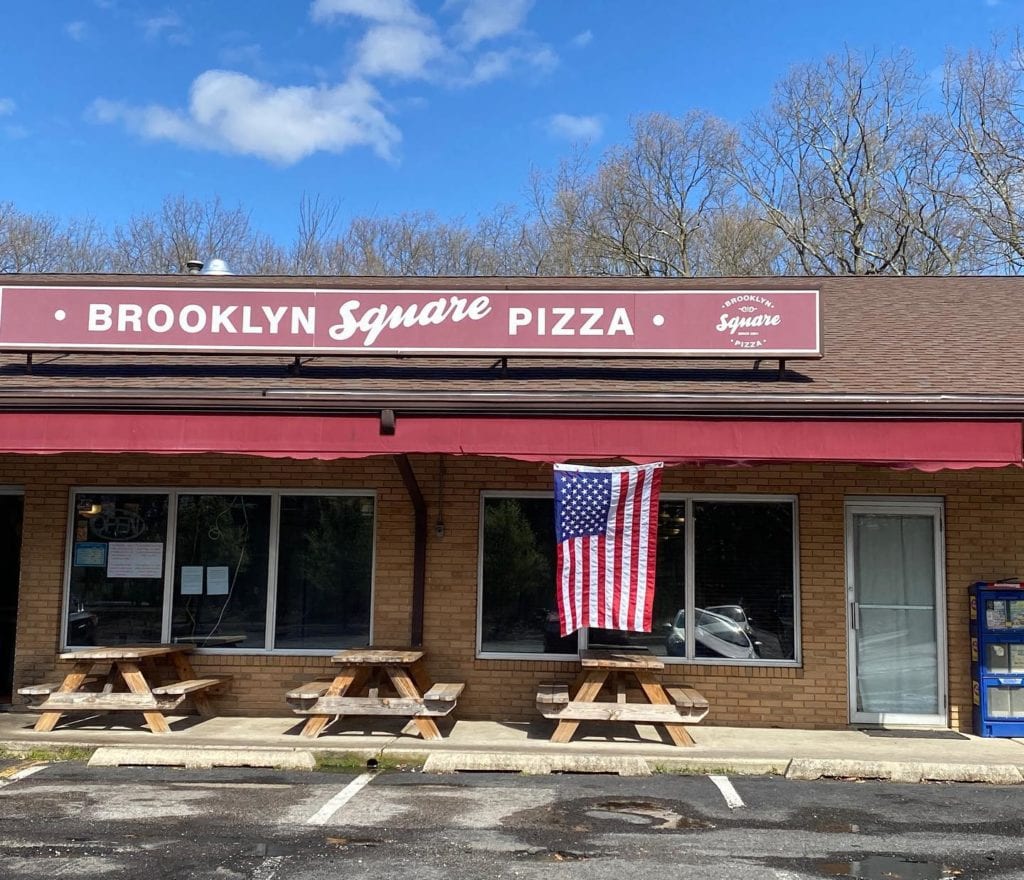 El Presidente' Dave Portnoy at Barstool Sports' One Bite Pizza Reviews just gave Jackson Township's Brooklyn Square Pizza an unheard of 8.9 on his grandma square pie.  Brooklyn Square has locations in Jackson and Toms River and the grandma's pie is hands down one of the best in New Jersey.  When it comes to service, people either love or hate it at Brooklyn Square, but the pizza usually makes up for that.
Brooklyn Square only has a 3.5 star rating on Yelp!, but improved customer service can bump that into a 4.5 range.
Our Pizza Score:  Pizza 9.2  |  Service 6.4  |  Dining Atmosphere 7.2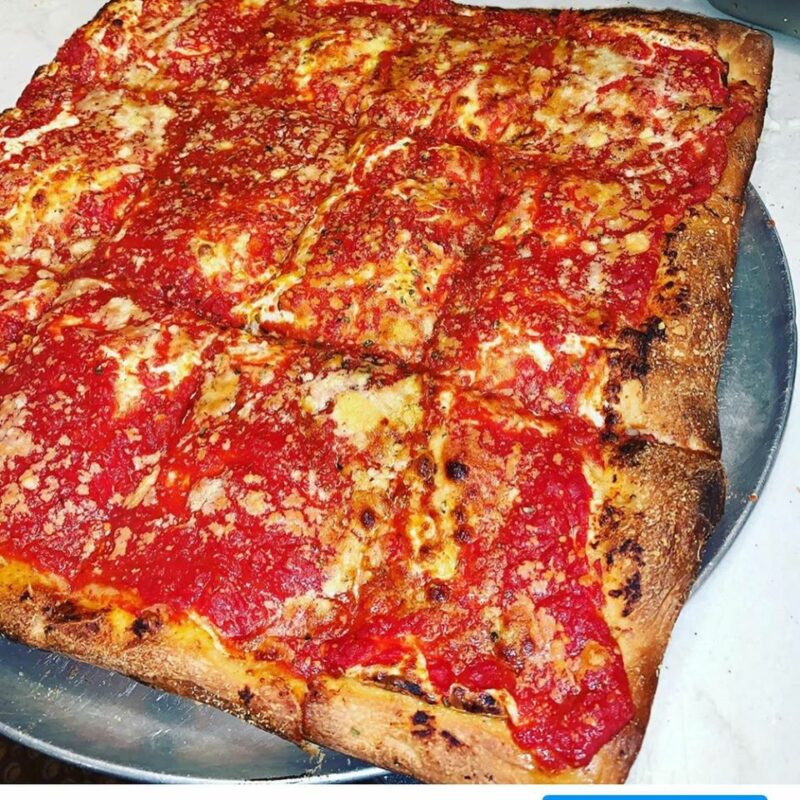 Sawmill, Seaside Park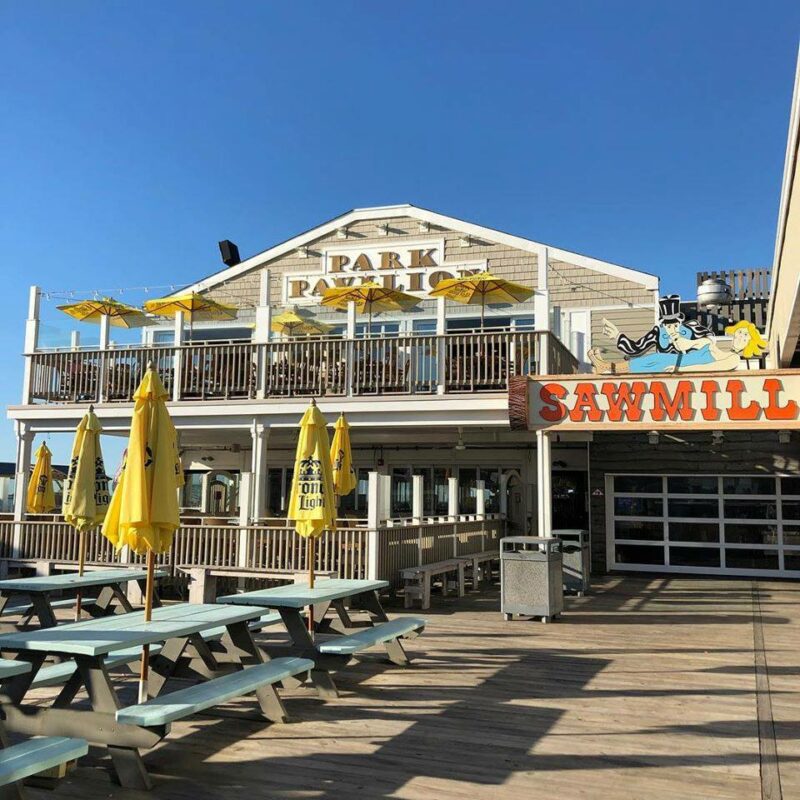 If you grew up at the Jersey Shore and spent any time immediately after your 21st birthday in Seaside Heights, you're going to understand exactly why Sawmill is on this list.  Now, pizza purists are probably cringing that we would suggest the Sawmill, but there's something about the Sawmill that makes it everything you need to know about the Jersey Shore.  First, their slices are huge. The pies are huge and it's a great indoor/outdoor bar setting right on the boardwalk in Seaside Park.  A trip to the Sawmill can be turned into an incredible Jersey Shore staycation with the boardwalk, the beach and nearby bay beach, dock, boating and fishing options.
The best part of the Sawmill is that you can get a great Jersey Shore slice and a beer while people watching on the boardwalk and enjoying the sights and sounds of the Jersey Shore right before your eyes!
The Sawmill only boasts a 3.0 rating on Yelp!, but don't let the pizza snobs who run to yelp who can't see the Jersey Shore beyond the pizza here.  Most of that rating isn't even about the pizza and this is all about the pizza.
Our Pizza Score:  Pizza 7.4  |  Service 7.0  |  Dining Atmosphere 9.6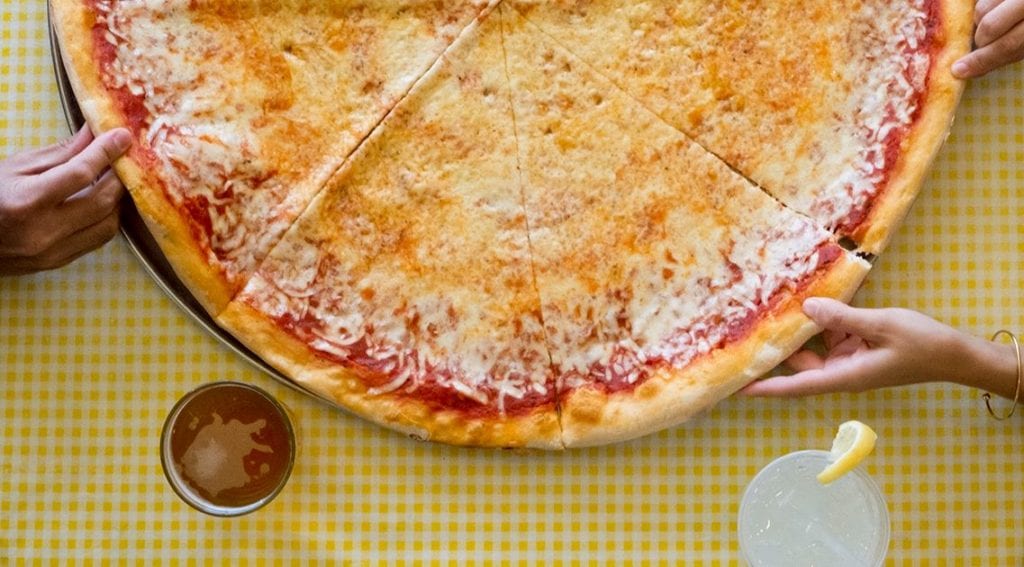 Sam's Pizza Palace, Wildwood

Sam's Pizza Palace easily the best pizza in Wildwood hands down and a great place to stop.  The restaurant ambiance itself is nothing special, other than the fact that when you walk outside the door, you're smack in the middle of the best boardwalk in the entire country.   The beach is just a few feet away, even though the Ocean is about a 15 mile walk across the vast desert like beaches of Wildwood.
Sam's pizza is a mix between the typical deep, doughy Jersey Shore pizza but with a slight Brooklyn blackening to it. The taste is amazing and after a long day walking the boardwalk and enjoying all that Wildwood has to offer, it tastes even better at night.
Our Pizza Score:  Pizza 8.1  |  Service 7.2  |  Dining Atmosphere 7.5

Carmen's Pizzeria at Pete & Elda's, Neptune City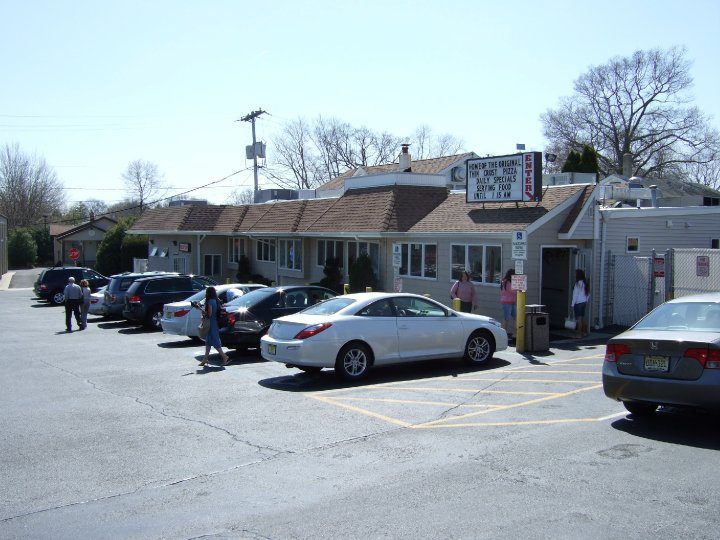 Carmine's Pizza at Pete & Elda's in Neptune City is a knockout combination of fun, great food and great times.  Even though it's a little bit off the beaten path at the Jersey Shore, the restaurant makes a great night out for friends or the entire family.  The pizza here is definitely not on the Jersey Shore thick crust level, but more reminiscent of the North Jersey and New York City bar pie.  Their thin, flakey crust can be ordered a little well done and the right mix of cheese and sauce make it a unique pizza here at the Jersey Shore.   Don't let the 3.5 stars on Yelp! confuse you because like all thin crust pizzerias at the Jersey Shore, it's a very polarizing topic.
If you like thin crust pizza, this is your place. If you don't, you can still enjoy a great slice and appease your friends who do like it and put down a few beers.   Some say Pete & Elda's is your standard Jersey Shore tourist trap.  It very well might be, but one thing is for sure, we've never left Pete and Elda's not satisfied.  Dave Portnoy at Barstool Sports gave their pizza a solid 8.1.
Our Pizza Score:  Pizza 8.5  |  Service 8.2  |  Dining Atmosphere 8.2
Denino's South, Brick Township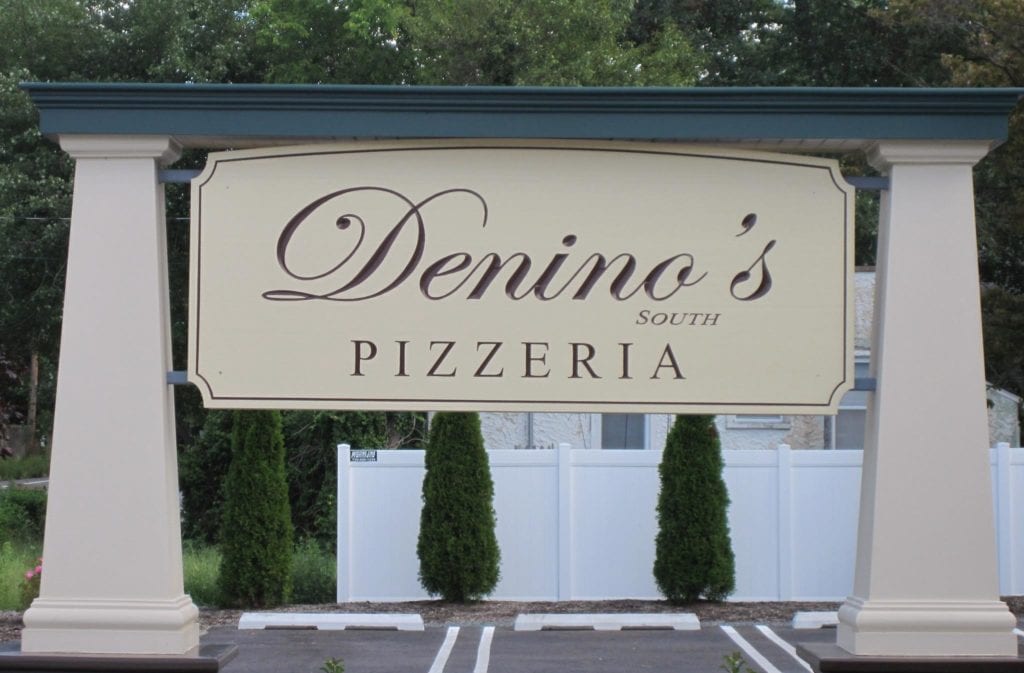 If you have friends, family, neighbors or have actually just even spoken to anyone from Staten Island for more than 5 minutes, you've probably heard all about Denino's.  The family owned business has its original Denino's Pizza & Tavern in Staten Island and has expanded to the Jersey Shore with Denino's Pizza Place in Aberdeen and Denino's Manhawkin Pizzeria.  In Brick, you'll find Denino's South in the heart of Brick's retail box store district along Brick Boulevard, tucked off to the side.  It's just a few miles from the beautiful Mantoloking Bay Bridge park, so it's another day trip idea.  It's also not that far from the Brick beaches.
Thin crust again. If you know Staten Island and Brooklyn thin crust, this is what you should expect at Denino's.  It's a great replication of the original here at the Jersey Shore, run by a great family.
Our Pizza Score:  Pizza 8.4 |  Service 9.5 |  Dining Atmosphere 8.5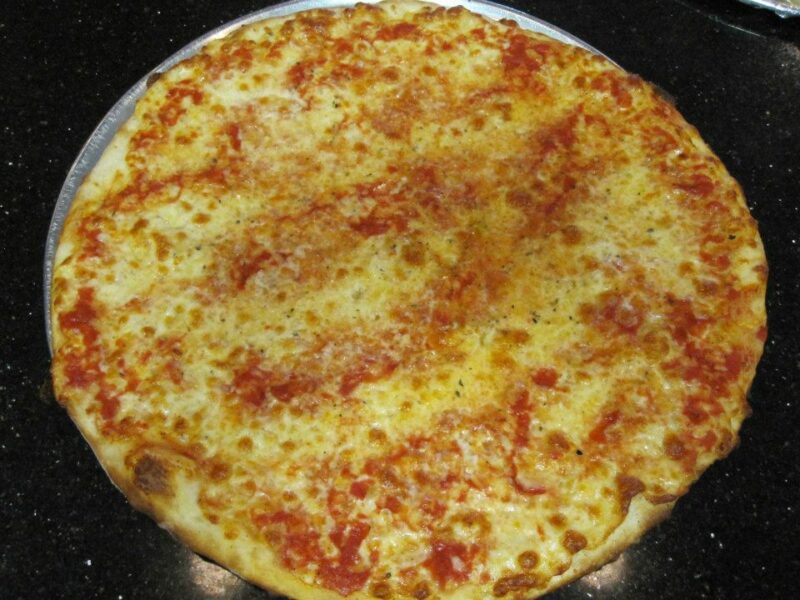 Maruca's Tomato Pies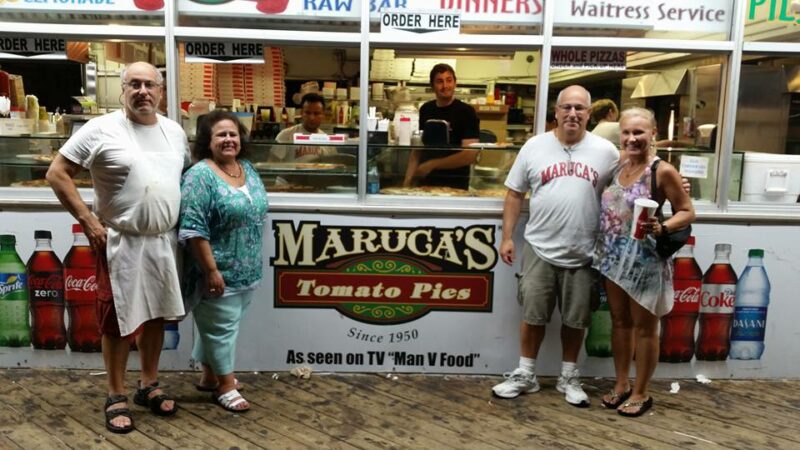 Like a phoenix from the ashes, Maruca's keeps coming back better after each setback and for a business that was devastated during Hurricane Sandy and destroyed by the 2013 boardwalk fire, they're back and better than ever.  Maruca's is a Seaside boardwalk staple with their familiar sauce on top with the spiral twist.   The pizza is fantastic and unique and it's the quintessential "everything" that makes the Jersey Shore.    The beach, the boardwalk and everything that comes with it, ends each night at Maruca's.   Definitely make a day out of your visit here.
Our Pizza Score:  Pizza 8.1 |  Service 7.9 |  Dining Atmosphere 7.2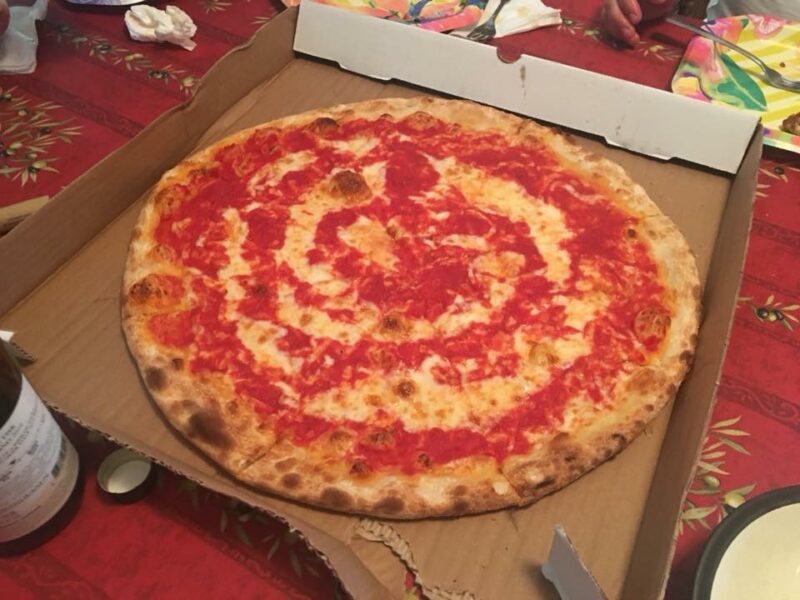 Federici's, Freehold

Federici's has two Monmouth County locations.  There's one in Howell (Now Galileo's and owned by former chef, apparently) and one in Downtown Freehold.  While both are great, for the sake of this article, we suggest going to the Freehold location to enjoy the great downtown ambience of the Freehold restaurant district.  Throughout the summer, there's always street events going on, concerts and more right outside their door.
There's an outside patio and inside dining and again, the allure of Federici's for many is it's flaky and crispy thin crust pizza.  Being a lifelong Jersey Shore resident, I sometimes find myself getting into trouble saying thin-crust isn't my thing, but you can't argue a good pie when you have one and that's what you'll have every time you visit Federici's .
Our Pizza Score:  Pizza 7.6 |  Service 9.0 |  Dining Atmosphere 8.5

Pat's Pizza Point Pleasant
First, I have to admit, I have never been to Pat's, but I know enough to know that it's one of the shore's favorite spots and we're hoping to get here this summer.  The pizza is highly rated across the spectrum and from the pictures on their website looks like the ideal Jersey Shore Pizza. There is one thing we can say for certain and that's if you're coming to the shore for Pat's make a day, if not a weekend out of it.  Point Pleasant is one of the nicest towns on the entire Jersey Shore for families and it packs a huge punch into a very small package. Located in the quaint downtown district, Pat's should definitely be on your list if you're coming to the area.
Our scores are compiled and weighted against ratings on Yelp and Google.
Our Pizza Score:  Pizza ?.? | Your Pizza Score:  Pizza 8.5 |  Service 8.1 |  Dining Atmosphere 7.9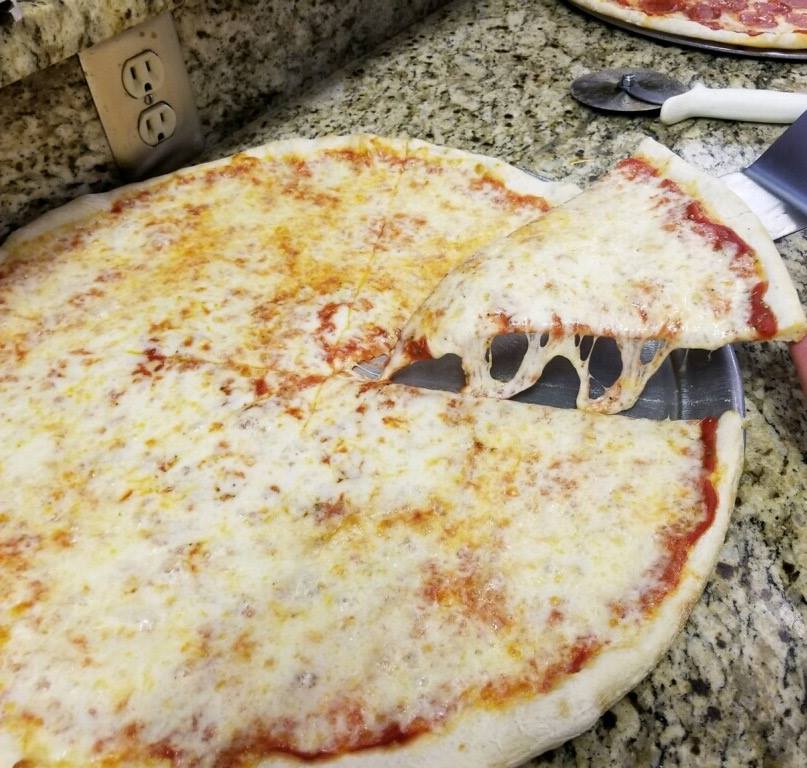 Vic's Italian Restaurant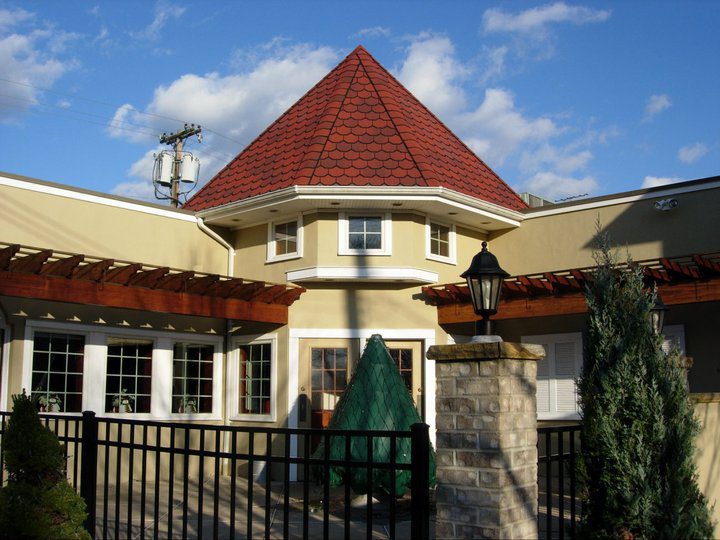 I've been to Vic's once and it was all around great.  The pizza, some may argue is the best at the Jersey Shore and it's another one of those shining examples of Jersey Shore pizza.  The inside is like an old-style bar and tavern and let's face it, nothing beats pizza and beer at the Jersey Shore.  It's been a while since I've been here, but I may end up taking my own advice and putting Vic's first once we're let out of the cage.   They've been doing a great job during the outbreak and are working hard to keep their employees paid like many others on this list.   It's located right in the heart of downtown Bradley Beach.
Our Pizza Score:  Pizza 9.2  |  Service 7.8 |  Dining Atmosphere 9.5