UTAH – Mitt Romney didn't quite have the support of the African-American vote when he ran unsuccessfully for President against Barrack Obama in 2012, but on Sunday, he joined in with a BLM march in Washington, D.C.   If you had to make a list of your top 20 predictions of 2020, we'll wager, "Mitt Romney walking in a Black Lives Matter march" was not on that list.
Let's not be too hard on Mitt, the man with a binder full of women, after all his dad also marched for civil rights in the 1960's.  Here's a photo he shared this week of his dad, George Romney, participating in a Civil Rights march in the Detroit suburbs during the 1960s.
Force alone will not eliminate riots," he said. "We must eliminate the problems from which they stem."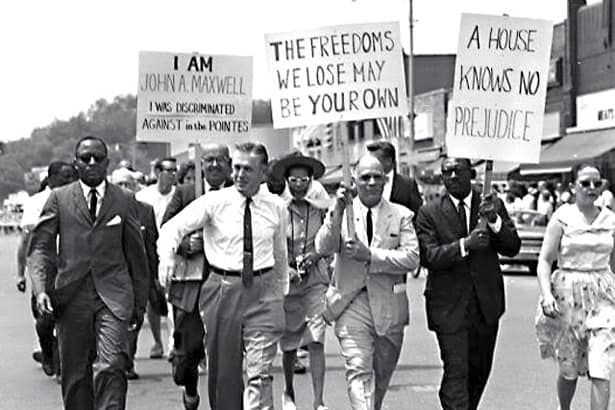 Twitter took notice.
BLACK LIVES MATTER…..

A phrase no other Republican
has uttered!

Until Mitt Romney!✊🏻#BlackLivesMatter#KidVicious✊🏽 https://t.co/iBUC4KqYn1

— Kirk Acevedo🇺🇸 (@kirkacevedo) June 8, 2020
Democrats after Mitt marched with #BlackLivesMatter protesters & was the sole vote to remove Trump from Office: pic.twitter.com/Q3SmzfvIvi

— Jason Morecheese 2️⃣0️⃣2️⃣🎃👻🪓🗡🔪🩸 (@KnotsThoughtz) June 8, 2020
Notice how @MittRomney managed to find the most non-black "Black Lives Matter" rally ever?

He likely showed up for just enough time to "take selfies" (taken by his aides), before his security team (told to stay out of the photos) safely wisked him away (from gasp, black people).

— 🇺🇸 Mike Davis 🇺🇸 (@mrddmia) June 8, 2020
"Young MC getting the Grammy for Best Rap Performance over Public Enemy and De La Soul was some bullshit." –Mitt Romney

— Mat Johnson (@mat_johnson) June 8, 2020
https://twitter.com/Communism_Kills/status/1269822448092033024
Visit Shore News Network on Parler, Facebook and Twitter to comment @ShoreNewsNJ