LAKEWOOD TOWNSHIP, NJ –  The Lakewood School District had an unusual visitor on the first day of school last week, a man who used to run a thriving hate group, but these days, has been sentenced to serve his weekends in the Ocean County Jail.  When he's not in jail, he's managing anonymous Facebook pages for New Jersey Assemblymen Gregory McGuckin to attack McGuckin's chief political opponents.  He admittedly uses fear in his tactics but lately has been using pornographic caricatures of nude children, children holding sex toys and effigies of giant penises to get his message across to his depraved followers.
Editors Update: Lakewood School District Attorney Michael Inzelbuch said Ciullo was invited to the event by the school district.
Now, his two worlds have collided after he posted photos of Lakewood school children, in and out of class on his hate-filled, fear-driven social media page, funded and supported by the likes of New Jersey Assemblyman Gregory P. McGuckin, Toms River Mayor Maurice Hill, Toms River School Board candidate Christopher Raimann and other political elites.  The site features several cartoon caricatures of boys nude, bloody, and posed sometimes in provocative and compromising positions, often holding sexual pleasure toys.   His biggest fans these days are McGuckin, who likes and shares his many child-laden cartoon posts, Hill and many other politicians he's now serving in his latest "fear" harassment campaign.  But beyond his latest foray in online child pedophilia (see below), Ciullo has a dark past and probably should not be allowed to photograph children in or around any public school in America.    Some of his top fans include Plumsted Mayor Jack Trotta, Ocean County Election Board Administrator Beth McGuckin and Toms River School Board Candidate Christopher Raimann.  Even U.S. Senate Candidate Rikin Mehta has liked some of Ciullo's posts.
This week, photos of Lakewood school district children appeared on his page, we won't dare share, because of the exploitation of children going on in America.
A man who was recently convicted and sentenced to a 60-day jail sentence in Ocean County for writing fraudulent checks was allowed by the Lakewood School District to access two Lakewood public schools last week and to film and video children in the school.  He is a man who admits that he is paid to instill fear in people and brags that he is good at his job and claims he was invited by the district to photograph and video children at the Oak Street Elementary School and Spruce Street Elementary School last week on the district's first day of school.
The man, Richard Ciullo, the former head of an online hate group that has been condemned by New Jersey Governor Phil Murphy, Attorney General Gurbir Grewal, Lakewood political leaders and the entire Ocean County Board of Chosen Freeholders posed as a news photographer to gain entry to the school district.
Ciullo, along with members of the credentialed New Jersey media were taken on a tour with school district lawyer Michael Inzelbuch.
Laura A. Winters, the superintendent of the Lakewood School District said, "An invite was sent to media outlets.  I will review the list."
Inzelbuch did not return emails we sent to him.
Ciullo later posted videos of photos of the children on a blog page he manages that routinely targets Orthodox Jews, exploiting Jewish schoolchildren, while often blaming the Orthodox Jewish community for COVID-19, welfare fraud and more.
Ciullo was recently evicted from his own apartment this past winter after, according to the Asbury Park Press, he stiffed his landlord out of months of rent.  Ciullo was also caught on video trying to shake down another Lakewood landlord.   For his crimes in his check fraud case, his second fraud conviction, Ciullo was sentenced to 60 days in the Ocean County Jail, a sentence which he was ordered to serve on weekends.
We have not heard back from Superintendent Laura Winters regarding Ciullo's access given to students in which he was within two feet of some, violating social distancing rules while videoing and photographing the children.
Some Lakewood residents contacted Shore News Network when they found out their children's photos were posted on Ciullo's often perverse and anti-Semitic hate blog and on Facebook by the convict.
"This is a breach of confidence and security that a man who not only has a clear cut criminal record has been invited to the school district by school officials to film children, but it is appalling that a leader of a group that espouses hate, antisemitism and violence would be allowed even on school property at a school where he has no children attending…what news value of public interest can this man actually provide Lakewood Township? You never know what can happen in a situation like this," one resident wrote to Shore News Network.
"We hope this is a mistake and that our superintendent would not put such a character on a VIP list to film and photograph children," another said. "There's a reason that even our own Attorney General has condemned this man for his actions…he's dangerous to our entire community."
The children's photos were posted directly below a picture of New Jersey Governor Phil Murphy's face photoshopped onto a giant-sized penis costume.
Sources in Ocean County's government are now claiming that Ciullo is working for Toms River Mayor Maurice "Mo" Hill and New Jersey Assemblyman Gregory P. McGuckin.  McGuckin's firm serves as the attorney for the Lakewood Township Zoning Board.   One source within Ocean County has gone on record to claim Ciullo has been commissioned by Ocean County GOP Chairman Frank B. Holman.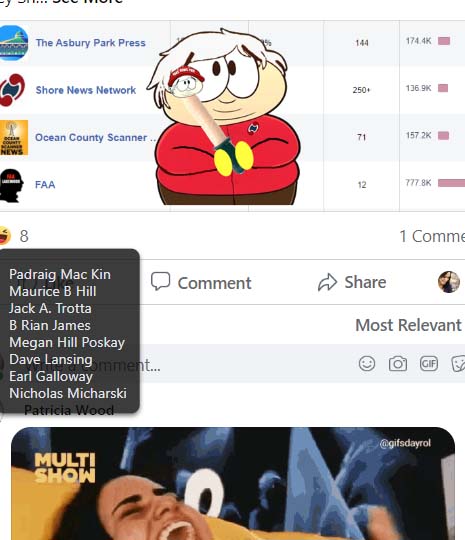 Top comments about this post on Facebook.