TOMS RIVER, NJ – A political action committee which many in the Ocean County political community claim has ties to Former GOP Chairman George Gilmore has provided critical funding for political campaigns has been a fundamental source of campaign revenue for Ocean County Republicans during the COVID-19 Pandemic.  Funding for political campaigns during the pandemic in Ocean County is at an all-time low and the newly formed Southern Ocean Conservative Republican (SOC-R) PAC has been there for candidates at all levels to provide campaigns with funding.
Today, Chairman Gilmore said that while he does attend fundraisers for the SOC-R Pac, he does not hold any formal position with the PAC.  Instead, the PAC, according to the latest report filed with New Jersey Election Law Enforcement Commission shows Toms River Republican Club member and accountant Carmen Memoli as the treasurer of the PAC.
In 2019, the SOC-R PAC donated money to Toms River Mayor Maurice Hill, which helped him win his general election.  That donation was made by SOC-R on October 17th, just weeks before the election.  When Agnes Polhemus, the wife of late Sheriff William Polhemus and Beachcomber owner Michael Carbone of Seaside Heights were running for the borough council, the SOC-R PAC made a donation to the candidates.  SOC-R also donated to victory campaigns of New Jersey Senator Michael Testa, Berkeley Township Councilman John Baccione, the South Toms River Republican Club, Berkeley Township Republican Club, and U.S. Congressional candidate David Richter.
We found that Mr. William Gleason, of South Toms River is the actual Chairman of the SOC-R PAC.
Even Ocean County GOP Chairman Frank Holman has asked Gleason's PAC for financial political contributions.  In September of 2019, Holman had requested the support of the PAC.
"Dear Mr. Gleason," Holman wrote in a letter to the chairman.  "I understand that you are the chair of the Southern Ocean Conservative Republican PAC. Our Freeholders and Sheriff are running for re-election this year, and we would greatly appreciate any support your organization can offer. Additionally, our Ocean County Republican Finance Committee supports candidates throughout the county and can also accept contributions. Thank you in advance for your consideration. Respectfully, Chairman Frank B. Holman, III, Ocean County Republican Organization."
SOC-R PAC donated $1,000 to the Ocean County Sheriff's Foundation on April 21, 2019, to support Ocean County Sheriff Michael Mastronardy.
Rikin Mehta, the Republican candidate for U.S. Senate also approached the PAC for financial support during his flailing campaign against Cory Booker and with former Chairman Gilmore to seek political campaign advice and services in the summer of 2020.
The SOC-R PAC offered to give Holman a sizeable donation to help Republican candidates win, but days before the election, rejected a check from the PAC after learning his arch-nemesis, Gilmore was attending SOC-R PAC events.  Holman eventually called upon the entire Ocean County Republican Party to not only boycott the SOC-R PAC, but to also boycott candidates supported by the SOC-R PAC, including Republican Congressional Candidate David Richter.   Holman gave Richter a desperate girlfriend ultimatum, "It's me or George!"
Richter, according to sources said he does not want to get involved with the Chairman's personal vendetta against Gilmore was scorned by Holman, the Ocean County Board of Freeholders, and the finance committee of the OC GOP.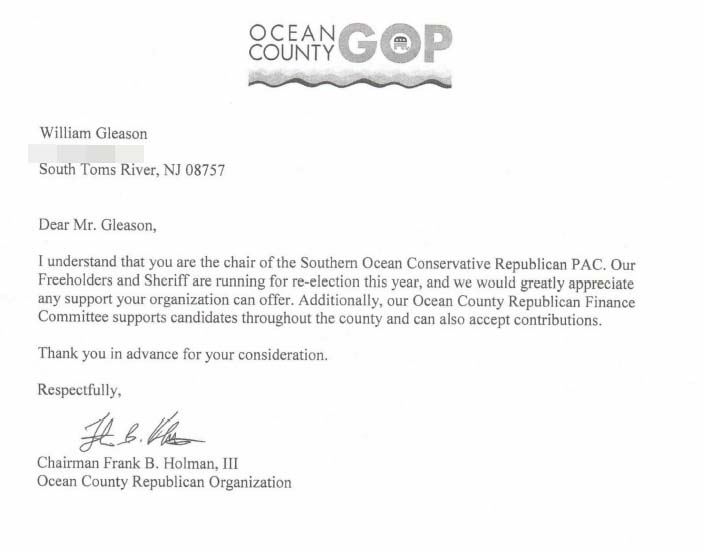 Visit Shore News Network on Parler, Facebook and Twitter to comment @ShoreNewsNJ