NEW ORLEANS, LOUISIANA –  U.S. Attorney Duane A. Evans announced that MARC A. VICTORIANO "VICTORIANO", age 46, of Covington, Louisiana, was sentenced today before United States District Court Judge Lance M. Africk to five years probation with 8 months of home confinement for theft from a program receiving federal funds.  He was also ordered to pay a mandatory $100 special assessment fee and $212,618.00 in restitution to the victim, Terrebonne Parish School Board.  
"The defendant was responsible for the safe and legal removal of material containing asbestos," said Special Agent in Charge Christopher Brooks of EPA's criminal enforcement program in Louisiana. "The defendant knowingly ignored regulations on the safe management of asbestos, putting workers, the general public, and most alarmingly school children, at risk.  This resulted in the Terrebonne Parish (Louisiana) School Board being defrauded out of $212,618."
U.S. Attorney Evans praised the work of the United States Environmental Protection Agency, Criminal Investigation Division; the Louisiana State Police; Louisiana Department of Environmental Quality, Criminal Investigation Section and the Louisiana Environmental Crimes Task Force, for their investigation of matter.  Assistant United States Attorney Julia K. Evans is in charge of the prosecution.
*   *   *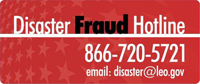 Help us combat disaster fraud.

 
650 Poydras Street, Suite 1600 – New Orleans, LA 70130