The evidence at trial established that HUNGERFORD and MILBRATH formed NobleOutReach, LLC, to operate an EB-5 investment fund.  The defendants then persuaded the City of New Orleans to allow their company to run the City's EB-5 regional center. Because New Orleans was a designated TEA in the years after Hurricane Katrina, immigrant investors only had to invest $500,000.00 in order to qualify under the EB-5 visa program.  HUNGERFORD and MILBRATH represented to investors that their $500,000.00 investment would be used to create jobs in New Orleans and contribute to the rebuilding of the City.  A total of 31 immigrants invested a total of $15.5 million in the defendants' investment fund.  These immigrants also paid thousands of dollars in addition as "service fees" to the defendants. Along with another non-immigrant investor who also invested with the defendants, HUNGERFORD and MILBRATH obtained a total of $18,070,000.00 from investors.
However, instead of investing these funds into New Orleans-based job-creating enterprises, HUNGERFORD and MILBRATH fraudulently misappropriated investor funds for their own personal gain.  HUNGERFORD and MILBRATH wrote themselves checks drawn from investor funds which they disguised as "loans" or "loan repayments."  The evidence showed that the defendants created multiple companies in order to conceal the path of investor funds and misappropriate them.  The defendants also spent investor funds to purchase vacation and rental properties for their own benefit.  During the perpetration of the fraud, the defendants made false representations to investors, USCIS, and the City of New Orleans.
Judge Guidry sentenced the defendants to 102 months as to each Count 1 (conspiracy to commit wire fraud), Count 3 (conspiracy to commit money laundering), and Counts 4 through 9 (wire fraud). As to Count 2, conspiracy to commit immigration fraud, Judge Guidry sentenced the defendants to the statutory maximum of 60 months in prison. He also sentenced HUNGERFORD and MILBRATH each to two years of supervised release. Judge Guidry agreed to take the Government's motions for restitution and for a preliminary order of forfeiture under submission to be determined at a later date.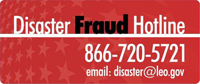 Help us combat disaster fraud.

 
650 Poydras Street, Suite 1600 – New Orleans, LA 70130