In announcing the sentence, Acting U.S. Attorney Phillips, Inspector in Charge Adame and Chief Contee commended the work of those who investigated the case from the U.S. Postal Inspection Service and Metropolitan Police Department. They also acknowledged the efforts of those who worked on the case from the U.S. Attorney's Office for the District of Columbia, including Assistant U.S. Attorney Kondi Kleinman, former Assistant U.S. Attorney Stephanie Miller, Financial Analyst Bryan Snitselaar, Paralegal Specialist Michon Tart, and former Paralegal Specialist Brittany Phillips.

Making sure that victims of crimes are treated with compassion, fairness and respect.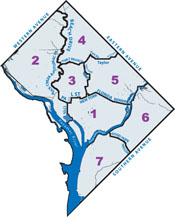 The United States Attorney's Office In Your Neighborhood

 

Our nation-wide commitment to reducing gun crime in America.