SEASIDE HEIGHTS, NJ – Ocean County had an idea in the 1970s and that was to draw new residents to the community…from Canada. Now, it's no secret that many Canadians take their vacations in New Jersey. As you get further south to the Wildwood area, hotel parking lots are loaded with Ontario license plates and it's something the county realized four decades ago.
The video showed Seaside Heights as the ideal place for a vacation showing its sandy beaches and wanted to divert some of the Quebec traffic here to Ocean County. Cape May and Wildwood have always been the preferred destination for most Canucks headed to the Garden State.
The video, however, has a deep, dark underside that would trigger today's army of social justice warriors, karens and liberal do-gooders.
The video regardless of its success or lack thereof captures a moment in Jersey Shore history when bellbottoms were in, Disco jammed on the boards from places like the Chatterbox. If you look closely you can see a bunch of things that people in the 1970s did that would horrify many today.
You can skip to the bottom to watch the actual video and skip the trigger warnings.
Here are some 2021 trigger warnings for this video:
Children weren't wearing swimmies
Nobody in the 1970s would be caught dead wearing swimmies or beach life preservers, no matter how young you were. Back then, you either knew how to swim or you didn't go near the water. Or you went into the water and drowned. There were no 'alternative' options for people who didn't know how to swim at the beach. You simply used common sense.
Rides didn't have the safety protection of rides today
Take a look at this shot of the Swiss Bob on the Casino Pier. There's nothing holding you in as you spin around other than a seatbelt. No automatically adjusting safety bars.
Children did dangerous things on dangerous playground equipment
Have you ever done a handstand on the fast-spinning carousel or lean over the edge with your head just inches from the spinning concrete below you? No? Then you didn't live in the 1970s when that was all just another day in the park. Today, parks are padded with rubber flooring and shredded tires. Back then, they were concrete and if you cracked your head open, well, you shouldn't have done whatever it is you were doing.
People did things they don't do today
We're pretty sure dragging a girl across the hot sand by her feet is a misdemeanor in 2021 and definitely would not be in a promotional tourism video.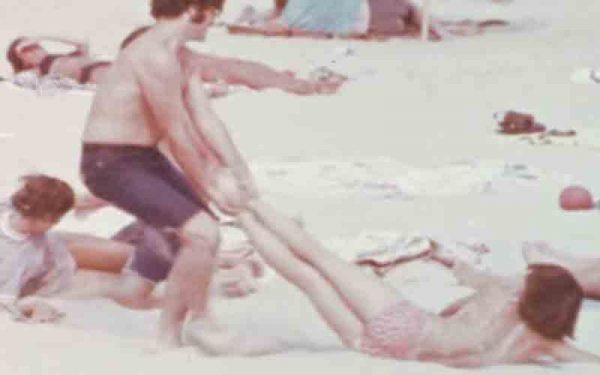 Grannies on Parade
Seaside Heights used to hold a "most beautiful grandmother parade" and the elderly would be judged upon their looks alone. We're pretty sure we know several groups who would lodge protests if the borough tried such an insensitive act today.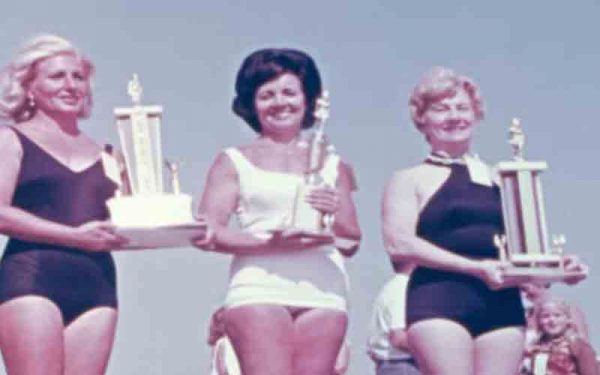 Smoking while playing boardwalk games
Smoking was everywhere in the 1970s. You couldn't get away from it. Imagine the army of Karens that would emerge if this woman showed up at your game of chance tonight? BTW, she was throwing the ball to win a carton of cigarettes.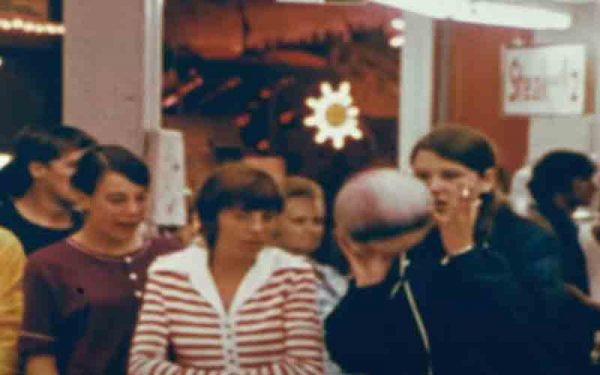 Diving head first into the hotel pool
There were no warning signs at pools other than numbers to tell you how deep the water was. From there, it was on you to make the judgment call to dive into it or not dive into it.
High Diving Boards
When kids did stuff like jumping into the air off a high diving board into a pool, nobody cared. You weren't cool. You weren't a daredevil. In fact, nobody batted an eyelash, especially these two girls who were clearly not impressed with the every day act of life in the 1970s.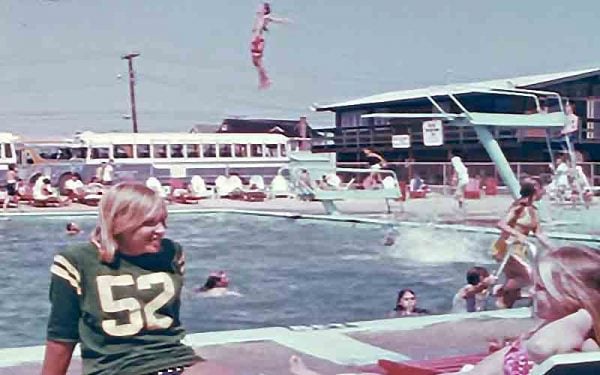 Girl Watching
To hear a middle-aged man talk about girl watching while showing videos of scantily clad teenagers would be a cringe-worthy red flag worthy of a call to the prosecutor's office in 2021. In the 1970s, it was just assumed that most middle-aged men were creepy and we were somewhat ok with a certain level of their creepiness. As for girl watching as a reason to come to Seaside, it's probably still going on, but we just don't make it a key talking point in promotional tourism videos.
Smoking on the beach
In a world where Karen was just a terrible name choice parents made in the maternity ward, smoking was allowed on the beach and for the most part nobody cared. Heck, you just drove 15 miles to get to the beach on a 90-degree day with the windows rolled up and mom and dad were chain-smoking in the front seat. So, a little second hand smoke on the beach was nothing to get upset about.
Guns on the boardwalk
Not shown in this video was the 22 rifle game on the boardwalk in the 1970s where you would shoot real rifles at targets with real bullets. We're pretty sure that would be a no-go over on the Casino Pier in 2021.