FORT SMITH – Trio sentenced to over 38 years combined in federal prison on one count each of Being a Felon in Possession of a Firearm. The Honorable Judge P.K Holmes, III, presided over the sentencing hearing's in the United States District Court in Fort Smith.
According to court documents, In November 2020, members of the 12th/21st Drug Task Force (DTF) received information that Charlene M. Elmore, 26, and Frankie Leon Hunter, 29, possessed numerous firearms that were suspected to have been stolen. Elmore was a parolee with an active absconder warrant issued by the Arkansas Parole Board due to her absconding from parole supervision on or about July 31, 2020. Hunter was also a parolee. On November 9, 2020, DTF members went to their residence in Fort Smith, Arkansas. When DTF members arrived at the residence, they saw Elmore, the driver, and Hunter, the passenger, leaving in a green Chevrolet Equinox. Patrol officers attempted a traffic stop, but Elmore stopped only when her vehicle became disabled. Elmore and Hunter were taken into custody.  After Elmore and Hunter were taken into custody, law enforcement officers returned to the residence where Jeremy Robinson, 29, another parolee living at the residence, answered the door. Arkansas State Parole Officers had parole search waivers on file for all three individuals that allowed them to search the residence. Eighteen firearms were found, six of which had been reported stolen in Roland, Oklahoma.
Elmore was sentenced yesterday to 92 months in prison followed by three years of supervised release.
Hunter was sentenced on July 21, 2021 to 192 months in prison followed by five years of supervised release.
Robinson was sentenced on June 10, 2021 to 180 months in prison followed by five years of supervised release.
Acting U.S. Attorney David Clay Fowlkes of the Western District of Arkansas made the announcement.
The 12th/21st Drug Task Force investigated the case.
Assistant U.S. Attorney Kyra Jenner prosecuted the case.
This case was prosecuted as part of Project Safe Neighborhoods (PSN), a program bringing together all levels of law enforcement and the communities they serve to reduce violent crime and make our neighborhoods safer for everyone. The Department of Justice reinvigorated PSN in 2017 as part of the Department's renewed focus on targeting violent criminals, directing all U.S. Attorney's Offices to work in partnership with federal, state, local, and tribal law enforcement and the local community to develop effective, locally-based strategies to reduce violent crime.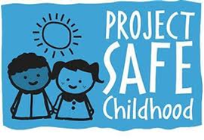 Help us combat the proliferation of sexual exploitation crimes against children.