After the transaction, a traffic stop was performed. RIVERE was operating the vehicle and was in possession of the $680 he had received from undercover USFWS agent. An agent checked the serial numbers on the money that RIVERE possessed and it matched the serial numbers on the money that had been provided from the undercover USFWS agent.
U.S. Attorney Evans praised the work of the United States Fish and Wildlife Service, Homeland Security Investigations and the United Postal Service in investigating this matter. Assistant United States Attorney Jon Maestri is in charge of the prosecution.
                                                                                                                                     *   *   *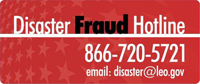 Help us combat disaster fraud.

 
650 Poydras Street, Suite 1600 – New Orleans, LA 70130