NEW ORLEANS – U.S. Attorney Duane A. Evans announced that BORIS GORDON, age 24 of Marrero, pled guilty on August 19, 2021 to making a false statement during the purchase of a firearm, in violation of Title 18, United States Code, Sections 922(a)(6) and 924(a)(2).
According to court documents, on December 30, 2015, GORDON falsely stated to a federally licensed firearm dealer that he was the actual purchaser of a Glock Model 21, .45 caliber semi-automatic pistol, when he knew that he was not the actual buyer.
GORDON faces a maximum term of imprisonment of 10 years.  A fine of up to $250,000 may also be imposed.  GORDON may be placed on supervised release after imprisonment for a period of up to 3 years.  Additionally, a mandatory $100 special assessment fee will be assessed.  U.S. District Court Judge Ashe set sentencing for December 9, 2021.
*   *   *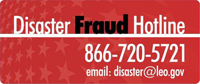 Help us combat disaster fraud.

 
650 Poydras Street, Suite 1600 – New Orleans, LA 70130