A local story out of Oklahoma about a doctor who claimed ivermectin cases are filling Oklahoma hospitals has been picked up by left-wing media outlets and republished as fact, but is it true?
It all started three days ago on Oklahoma's News 4, KFOR station. Now, the entire media industry is wrapped up in the ivermectin story.
This particular report claiming hospitals are being overrun with ivermectin patients has been featured in Rolling Stone, the Guardian, BBC, and other news agencies who never bothered to fact-check the local news broadcast.
But, we did.
Dr. Jason McElyea claims rampant misuse of ivermectin, a drug approved to treat parasitic infections in humans and horses has lead to emergency room backups and lack of ambulance availability in Oklahoma.

"The ER's are so backed up that gunshot victims are having a hard time getting to facilities where they can get the "The ERs are so backed up that gunshot victims were having hard times getting to facilities where they can get definitive care and be treated," he said."All of their ambulances are stuck at the hospital waiting for a bed to open so they can take the patient in and they don't have any, that's it," said Dr. McElyea. "If there's no ambulance to take the call, there's no ambulance to come to the call."
McElyea said he has treated people in the emergency room who even had vision loss.
The story gained traction, even being reported in Rolling Stone and other national and international news websites.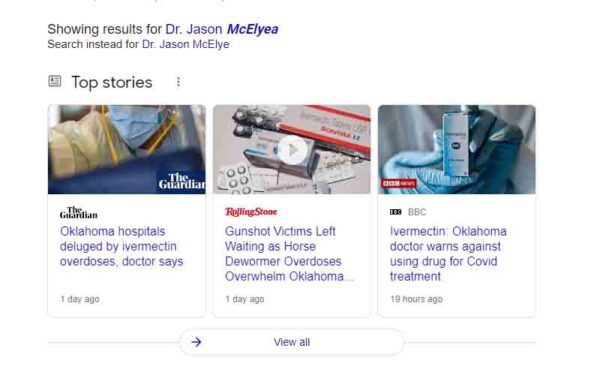 It turns out the story is fake. Northeastern Health System, which Dr. McElyea used to work with as a staffing agency said his report is completely false.
"Although Dr. Jason McElyea is not an employee of NHS Sequoyah, he is affiliated with a medical staffing group that provides coverage for our emergency room. With that said, Dr. McElyea has not worked at our Sallisaw location in over 2 months. NHS Sequoyah has not treated any patients due to complications related to taking ivermectin," NHS said in a statement. "This includes not treating any patients for ivermectin overdose. All patients who have visited our emergency room have received medical attention as appropriate. Our hospital has not had to turn away any patients seeking emergency care. We want to reassure our community that our staff is working hard to provide quality healthcare to all patients. We appreciate the opportunity to clarify this issue and as always, we value our community's support."
Neither the local station nor Rolling Stone has issued a retraction.
The left continues to push a media narrative that conservatives and Republicans are creating an ivermectin health crisis? But is it true?
According to the National Poison Data System, there have been 1,143 cases of ivermectin exposure. While cases of ivermectin exposure are up, 102 of the 1,143 cases recorded by the NPDS showed patients who experienced moderate or major effects from misusing the drug.
13% of patients reported with ivermectin exposure had minor effects. 66% had no effects.
Each year, the NPDS says ivermectin cases range between 400 and 500. This year's total is more than a 100% increase, but the numbers are so few.
In reality, the ivermectin story appears to be more media hype than an actual medical emergency and most Americans probably won't be going to their local feed store to buy a 'horse dewormer' to prevent COVID-19. But that's what they want you to think because it makes a great headline.