WASHINGTON – Daquon Brooks, 24, of Washington, D.C., has pleaded guilty to fatally shooting a man in the Third Street Tunnel in July 2019, as well as shooting another person in a separate domestic violence incident the same month, announced Acting U.S. Attorney Channing D. Phillips and Robert J. Contee III, Chief of the Metropolitan Police Department (MPD).
            Brooks pleaded guilty on Oct. 18, 2021, in the Superior Court of the District of Columbia, to second-degree murder while armed in the killing of Leon Williams. He also pleaded guilty to charges of assault with a dangerous weapon and stalking, stemming from a domestic violence incident. His guilty plea, which is contingent upon the Court's approval, calls for an agreed-upon sentence of 13 to 17 years in prison, to be followed by up to five years of supervised release. The Honorable Juliet J. McKenna scheduled sentencing for Jan. 25, 2022.
            According to a proffer of facts submitted at the plea hearing, on July 30, 2019 at 2:50 p.m., Brooks was riding in the passenger seat of his girlfriend's car; she was driving the car and her minor child sat in the backseat. As the vehicle entered the Third Street Tunnel, Mr. Williams 52, rear-ended her car. Both cars stopped and Brooks' girlfriend got out of her car, walked over to the driver's side door of Mr. Williams' vehicle, and confronted him for rear-ending her.
            A short time later, Brooks got out of the car, walked over to Mr. Williams' driver's side door, and pointed a loaded gun at his head. Brooks fired one shot into Mr. Williams' neck. Both Brooks and his girlfriend ran back to the girlfriend's car and fled the scene. Mr. Williams was paralyzed and never recovered from his injuries. He died of his injuries on Oct. 18, 2020.
            The other shooting incident occurred on July 15, 2019, roughly two weeks before the tunnel gunfire. According to the proffer of facts, Brooks sent numerous messages via Instagram and text  between July 9, 2019 and July 15, 2019 threatening to kill his former girlfriend after she began a relationship with another man. On July 15, 2019, at approximately 6:10 p.m., Brooks approached his ex-girlfriend's new boyfriend in the 4800 block of Benning Road SE and fired multiple bullets with a pistol at the new boyfriend, striking him in the leg and foot.
            Brooks has been in custody since his arrest on Aug. 5, 2019.
            In announcing the plea, Acting U.S. Attorney Phillips and Chief Contee commended the work of the officers, detectives and other personnel who investigated the case from the Metropolitan Police Department. They acknowledged the efforts of those who handled the case from the U.S. Attorney's Office, including Assistant U.S. Attorneys Colleen Kukowski, Kenya Wells, Jason Feldman, and Dana Joseph; Paralegal Specialists Tasha Harris, Michelle Wicker, and Cynthia Muhammad; Special Agent Mark Crawford, of the Criminal Investigation and Intelligence Unit; Victim/Witness Security Specialist Ashli Tolbert, Victim/Witness Advocate Marcia Rinker, and Victim/Witness Program Specialist Lan Lu.
            Finally, they commended the work of Assistant U.S. Attorney Kristian L. Hinson, who investigated and prosecuted the homicide case, and Assistant U.S. Attorneys Joseph Drummey and Danielle White, who prosecuted the domestic shooting case.

Making sure that victims of crimes are treated with compassion, fairness and respect.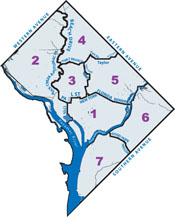 The United States Attorney's Office In Your Neighborhood

 

Our nation-wide commitment to reducing gun crime in America.