NEW ORLEANS –  U.S. Attorney Duane A. Evans announced that former long-time St. Tammany Parish Sheriff RODNEY J. STRAIN (a/k/a Jack Strain), age 56, from Abita Springs, Louisiana, pleaded guilty today before United States District Judge Jane Triche Milazzo to Count 15 of the Indictment returned in August 2019, charging him with soliciting and receiving bribes, in violation of Title 18, United States Code, Section 666(a)(1)(B) for his role in the privatization and operation of a work release program that operated in Slidell, Louisiana between 2013 and 2016. 
According to court documents, STRAIN, who was the Sheriff of St. Tammany Parish from about 1996 to 2016, had the unilateral authority to decide whether Parish-run work release programs (i.e., halfway houses) would be operated by the Sheriff's Office or private entities and to choose which private entities would be granted the right to operate privately-run halfway houses.  In about early 2013, STRAIN decided to privatize a work release program in Slidell, Louisiana.  He discussed with his two close associates and Captains with the St. Tammany Parish Sheriff's Office (STPSO), David Hanson and Clifford "Skip" Keen, the prospect of Hanson and Keen becoming joint owners of the Slidell work release program.  However, St. Tammany Parish Sheriff's Office employees advised STRAIN that state law prohibited Hanson and Keen from owning and operating the Slidell work release program while employed at STPSO.  As a result, since state law prohibited employees from "participating in a transaction in which he has a personal substantial economic interest of which he may be reasonably expected to know involving the governmental entity," Hanson and Keen would have had to resign from STPSO if they wanted to assume ownership and control of the Slidell work release program. Thus, they would be obliged to forfeit their salaries and pension increases from continued employment with STPSO to become joint owners.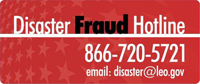 Help us combat disaster fraud.

 
650 Poydras Street, Suite 1600 – New Orleans, LA 70130
Let your voice be heard...Share your opinion: