DURANGO – The United States Attorney's Office for the District of Colorado announces that Dennis Yarbrough, 49, of Durango, Colorado, was sentenced to 30 months in federal prison, followed by 3 years of supervised release, for illegally possessing six firearms following a misdemeanor conviction for domestic violence. 
According to the plea agreement and public filings, in 2019, Yarbrough was convicted of a physical domestic violence misdemeanor in La Plata County Court.  In March 2021, law enforcement found Yarbrough in possession of six firearms, including a semi-automatic firearm capable of accepting a large capacity magazine. 
On April 8, 2021, a federal grand jury returned a one count-indictment against the defendant for possession of a firearm following a domestic violence conviction, in violation of 18 U.S.C. §922(g)(9).  After his arrest on the indictment, Yarbrough violated a federal no-contact order by contacting the victim of domestic violence to unlawfully influence her testimony in this case. 
"Victims of domestic violence need protection, safety, and support," said United States Attorney Cole Finegan. "The U.S. Attorney's Office prosecutes abusers who place victims of domestic violence at risk by illegally possessing firearms."
"Convicted criminals who seek to acquire firearms and threaten victims will be held accountable as this sentence shows," said Ryan L. Spradlin, Special Agent in Charge, HSI Denver.  "Given that Yarbrough violated an order of protection in an effort to influence testimony shows his disregard for the law, and we're gratified he will be behind bars. We are pleased to work with the Durango Police and U.S. Attorney's office to see justice served in this case."
United States District Court Judge Robert Blackburn issued the sentence on December 8, 2021.  The defendant pleaded guilty on September 9, 2021.
This case was investigated by HSI, working partnership with the Durango Police Department.  Assistant United States Attorney Jeffrey K. Graves handled the prosecution.
Case number:  21-cr-00118-REB-JMC
###
Visit our website http://www.justice.gov/usao/co | Follow us on Twitter @DCoNews
Our nationwide commitment to reducing gun violence in America.
Civil Rights

Information and Complaints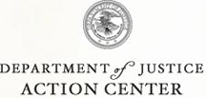 Locate a Prison, Inmate, or Sex Offender
Report Waste, Fraud, Abuse or Misconduct to the Inspector General
Crime Victims' Rights Ombudsman
Identify Our Most Wanted Fugitives
Report and Identify Missing Persons