NEW ORLEANS –  U.S. Attorney Duane A. Evans announced that DAVONTE DEJEAN, age 27, of New Orleans, was sentenced on November 30, 2021 by United States District Judge Greg G. Guidry after previously pleading guilty to drug and firearms offenses. 
Specifically, DEJEAN previously pled guilty to one count of possession with the intent to distribute cocaine base, in violation of 21 U.S.C. §§ 841(a)(1) and 841(b)(1)(C), one count of possession of a firearm during and in relation to a drug trafficking offense, and one count of being a felon in possession of a firearm and ammunition, in violation of 18 U.S.C. §§ 922(g)(1) and 924(a)(2).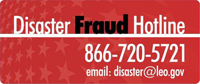 Help us combat disaster fraud.

 
650 Poydras Street, Suite 1600 – New Orleans, LA 70130