WASHINGTON – Tyrell Morris, 24, of Washington, D.C., was sentenced today to serve 15 years in prison for a pair of armed robberies he committed over a six-week period this summer in Northeast Washington, announced U.S. Attorney Matthew M. Graves and Robert J. Contee III, Chief of the Metropolitan Police Department (MPD).
            Morris pleaded guilty in September 2021, in the Superior Court of the District of Columbia, to two counts of armed robbery and related firearms offenses. He was sentenced by the Honorable J. Michael Ryan to 18 years in prison; however, three years of that time was suspended on the condition that Morris successfully complete five years of supervised probation.
            According to the government's evidence, on July 22, 2021, at approximately 7:35 a.m., Morris and an accomplice approached a man in the mouth of an alley behind the 1700 block of Gales Street NE, demanding everything that he had. The man, who had been walking, had a bag containing his phone and wallet. Morris brandished a firearm, which he then used to hit the victim across his face and head. When the victim turned to run away, Morris fired at him several times, hitting the victim once in the leg. Morris and the accomplice then fled with the bag.
            The second robbery took place on Aug. 29, 2021, at approximately 10:10 a.m. The victim was using an ATM located inside a small building in the 1100 block of H Street NE, in the process of withdrawing money. As he was doing so, Morris and an accomplice entered the building. Morris aimed a firearm at the victim and demanded money. He took approximately $70 from the man, as well as the victim's ATM card, which Morris used to withdraw approximately $1,000. Morris and the accomplice then left.
            Morris was arrested on Sept. 7, 2021, following an investigation by the Metropolitan Police Department into a series of armed robberies. He has been in custody ever since.
            In announcing the sentence, U.S. Attorney Graves and Chief Contee commended the work of those who investigated the case from the Metropolitan Police Department. They also acknowledged the efforts of those who worked on the case from the U.S. Attorney's Office, including Paralegal Specialist Alesha Matthews Yette, Victim/Witness Program Specialist Karina Hernandez, Victim/Witness Advocate Jennifer Allen, and Assistant U.S. Attorney Andy Wang, who investigated and prosecuted the case.

Making sure that victims of crimes are treated with compassion, fairness and respect.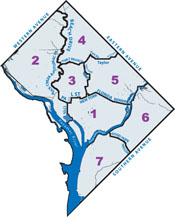 The United States Attorney's Office In Your Neighborhood

 

Our nation-wide commitment to reducing gun crime in America.