WASHINGTON – Nequan Carthens, 21, of Washington, D.C., has been sentenced to 10 years in prison for opening fire with a handgun on a Southeast Washington street and killing a woman who was walking in the area, announced U.S. Attorney Matthew M. Graves and Robert J. Contee III, Chief of the Metropolitan Police Department (MPD).
            Carthens pleaded guilty in October 2021, in the Superior Court of the District of Columbia, to voluntary manslaughter while armed. The plea, which was contingent upon the Court's approval, called for a 10-year prison term. The Honorable Danya A. Dayson accepted the plea and sentenced the defendant accordingly on Jan. 7, 2022. Following his prison term, Carthens will be placed on five years of supervised release.
            According to the government's evidence, on March 20, 2020, at approximately 9:55 p.m., Carthens exited from the rear passenger door of a blue-colored, four door sedan as it turned into an alley alongside the 1900 block of 16th Street SE. He was holding a handgun and shot into the 1900 block of 16th Street approximately nine times in the direction of a group of individuals who were congregating across the street. He then ran back into the waiting vehicle and fled the scene. 
            An innocent bystander, Lagoria Brinkley, 36, was walking southbound on 16th Street towards U Street SE and was struck in the head by one of the fired bullets.  Medical personnel arrived at the scene and were unable to revive her. Carthens was arrested on March 26, 2020 and has been in custody ever since.
            In announcing the sentence, U.S. Attorney Graves and Chief Contee commended the work of those who investigated the case from the Metropolitan Police Department.  They acknowledged the efforts of those who worked on the case from the U.S. Attorney's Office, including Paralegal Specialist Lashone Samuels; Victim/Witness Program Specialist Jennifer Allen, and Investigative Analyst Zachary McMenamin. Finally, they expressed appreciation for the work of Assistant U.S. Attorney Shehzad Akhtar, who investigated and prosecuted the case.

Making sure that victims of crimes are treated with compassion, fairness and respect.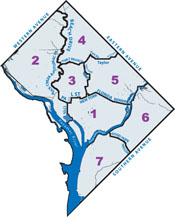 The United States Attorney's Office In Your Neighborhood

 

Our nation-wide commitment to reducing gun crime in America.