NEW ORLEANS –  U.S. Attorney Duane A. Evans announced that DAJANAE DRAKE, age 28, from Missouri City, Texas, was charged today in a one-count bill of information with obstruction, attempted obstruction, and interference with the enforcement of the federal criminal sex trafficking statute, in violation of Title 18, United States Code, Section 1591(d).  According to court documents, the criminal acts occurred between about June 25, 2021, and November 28, 2021. 
If convicted, DRAKE faces a maximum term of up to twenty-five (25) years in prison, a fine of up to $250,000.00, up to five (5) years of supervised release after imprisonment, and a mandatory $100 special assessment fee per count.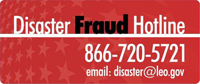 Help us combat disaster fraud.

 
650 Poydras Street, Suite 1600 – New Orleans, LA 70130