An old State Department photograph of White House Press Secretary Jen Psaki wearing a Russian Ushanka hat is circling back. The photo of Psaki and the pink Ushanka featuring a Russian Soviet-era hammer and sickle inside a red star, the symbol of the former USSR, has been recirculated this week by Republicans and the right-wing.
The red star has symbolized Russia's Communist Party since 1917 and was a figure on all Red Army uniforms during the cold war.
Many of Psaki's detractors recirculated the photo after Russia invaded Ukraine.
The "gotcha" photograph is an actual picture. In 2014, Psaki met with Russian leaders in Paris with then-Secretary of State John Kerry on a diplomatic mission. The U.S. and Russian delegates exchanged gifts, symbols of each nation. Kerry delivered potatoes from Iowa.
In return, Russian Foreign Minister Sergei Lavrov and Foreign Ministry spokesperson Maria Zakharova presented Psaki with a pink-colored Ushanka hat with the Soviet Union hammer and sickle on a Russian red star. Psaki posed for several photographs with the hat during the visit.
Allegedly, as it was a gift, Psaki did not keep the hat, and its whereabouts are unknown today.
It wasn't the first time Psaki came under fire for the photo. In 2020, former President Donald J. Trump's campaign circulated the photo. Now, Psaki's "pink commie hat" has circled back.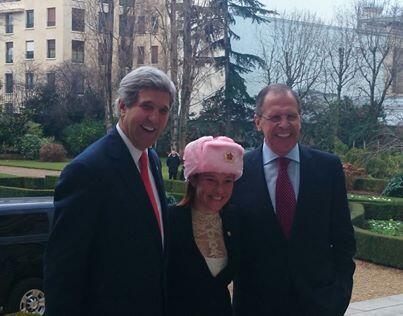 The photo is real.
It was published by the U.S. State Department's Flickr page on January 13, 2014, with the caption, "U.S. Department of State Spokesperson Jennifer Psaki — sporting a shapka, or fur hat with ear flaps, given to her by Russian counterpart Maria Zakharova — stands with Zakharova between U.S. Secretary of State John Kerry and Russian Foreign Minister Sergey Lavrov in Paris, France, on January 13, 2014."