ATLANTIC CITY, NJ – The Tennessee Avenue Tobacco Company is bringing its show to the open road this year. The company has announced a one-of-a-kind traveling cigar lounge that will make its round across South Jersey and the Jersey Shore.
The company claims its the first of its kind at the Jersey Shore.
"This on-the-go epitome of sophistication is the perfect place to celebrate a momentous occasion or kick back and relax with a fine cigar and good friends," according to a statement published by the company today.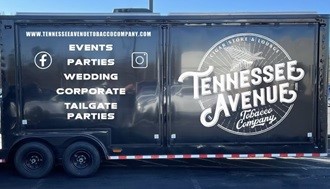 Formed by a group of gentlemen in the hospitality industry looking for a place to simply hang out and smoke a cigar, the mobile cigar lounge is a custom-built, 32-foot-long luxury trailer with climate control, comfortable leather chairs, dark wood accents, and of course, a fully stocked humidor containing an extensive array of most major cigar brands, plus a collection of new brands for connoisseurs to discover. It also boasts an outdoor deck with Adirondack chairs for the ultimate outdoor lounging experience.
Besides making public appearances, the lounge is also available for rentals for corporate events, tailgating parties, and backyard barbeques.