WASHINGTON, D.C. – Police are asking for help locating suspects and a vehicle involved in Armed Robberies and an Unarmed Carjacking that happened in a four-day span from Saturday to Tuesday of this week in Southeast and Northwest D.C.
At approximately 5:20 pm on Saturday, the victim, seated in their vehicle on the 1400 Block of 3rd Street in Southeast D.C., was targeted by the suspect. The suspect forcefully entered the victim's vehicle and assaulted the victim. Subsequently, the suspect escaped from the scene, utilizing the victim's vehicle as a means of getaway. The victim was transported to a local hospital, where their injuries were determined to be non-life-threatening.
At approximately 11:48 pm on Monday, two individuals approached the victim in the 3500 Block of 16th Street in Northwest D.C. Both suspects displayed handguns and proceeded to demand the victim's belongings. The victim cooperated and surrendered their property, after which the suspects fled the scene in a vehicle.
Around 12:53 am on Tuesday, the suspects left a vehicle and advanced toward the victim at the 200 block of 8th Street in Southeast, D.C. One of the suspects displayed a handgun and forcefully demanded the victim's belongings. However, the suspects left the scene in a vehicle without successfully obtaining any property from the victim.
At around 1:30 am on Tuesday, the suspects confronted the victims in the 700 block of 8th Street in Southeast, D.C. Displaying handguns; the suspects demanded the victims' possessions. The victims complied and handed over their property. Subsequently, the suspects fled the scene in a vehicle.
Police describe the suspect's vehicle as "a white Toyota sedan with a Pikachu decal on the left rear bumper. It was last seen displaying Maryland tags 2EW1653."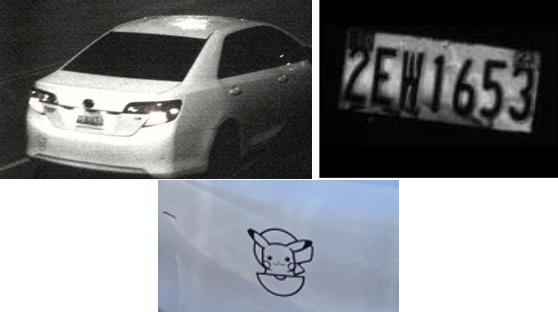 If you have any information about this incident, please take no action but call the police at (202) 727-9099 or text your tip to the Department's TEXT TIP LINE at 50411.