Picea Acres invites you to come down to their family-owned and operated Christmas Tree farm. Search the field for the perfect tree. They have everything you need to cut, move, bale, and tie-down your tree. Don't feel like all that work? They will help you.  Located in Jackson Township with easy access to Route 195 and Route 9, it's just a quick drive away and located right in Tree City, USA.
"Every Christmas Season we are delighted to see folks come back year after year," Picea boasts on its website.  "It is always heartwarming to meet the new additions and bask in the memories of seasons past. We would be overjoyed if you would join us. Bring the family and the pets too (the well-behaved ones!), to breath in the fresh air, kick-start the Christmas Spirit and pick the perfect centerpiece for your Christmas Celebration. We open every year the day after Thanksgiving."
Book your reservation to have Santa or an Elf deliver a Christmas Tree to your front door! Our Elves will bring you a variety of 5 foot to 8 foot trees to choose from. You can also upgrade to have Santa deliver your tree. You can either pick your tree curbside outside your home or have contactless front porch delivery! Appointments are filling up so be sure to book your ideal day and time for delivery as soon as possible! Gather your neighbors, family and friends and take part in the Holly Jolly Christmas Tree Delivery Experience. Book Your Delivery online or call 732-554-2001.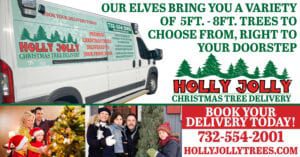 From their website: Welcome to Yuletide Christmas Tree Farm! ​It is our pleasure to provide a place for you, your family and friends to experience Christmas. Yuletide Christmas Tree Farm would like to be the place where you begin or continue your Christmas traditions and memories. We grow three types Christmas trees on our farm: Murray Cypress, Blue Ice and Carolina Sapphire. We also bring in Fraser firs from North Carolina. New to the farm this year, fresh cut wreaths. We also have a Petting Farm, Marshmallow Roasting pit, Country Store and Saturday Night Christmas Light Trail. We even set up times with Santa to come visit our Tree Farm so the kids can give him their Christmas Wish Lists.
From their website: From seedlings to full grown trees, Bullock Farms has approximately 12,000 Christmas trees for sale. Take a walk in the field and enjoy our beautiful country scenery that provides the nostalgic experience of choosing your own tree to cut. Assistance is available for cutting and preparing your tree to take home. We also have a selection of fresh, pre-cut trees that are regularly brought in from Pennsylvania
Christmas Tree Delivery Service at the Jersey Shore is the Ultimate Shop from Home Experience This Holiday Season
A. Casola Farms has the perfect Christmas Tree for your family. Your find the highest quality and selection and just the right size and shape for your home. You can also find wreaths, grave blankets, decorations, poinsettias and everything to make the holidays festive. Kids, make sure to bring your letter to Santa and leave it in our drop-box so that we can send it to the North Pole! Enjoy free hot beverages while you pick out your Christmas tree, sip on some hot apple cider and browse through our collection of holiday plants and decorations.
Conover's is a small, family-owned Christmas Tree Farm offering fresh-cut trees grown on-site.
Christmas tree sales start the weekend after Thanksgiving. Weekends only and Kaufman's is open from 10am to 4pm. Please call Doug 732-620-3192 for any questions.
Wemrock isn't a u-pick farm, but they have a great seasonal celebration and a fully stocked store full of holiday ready pies, treats and deserts.
Want a Wemrock pie, get your order in as soon as possible.
"We may have to cut it off if we reach a certain number, so get your order in asap to ensure you get your favorite pie," Wemrock said this week.  "We will baking lots of extra pies throughout week and will try to keep all in stock. You can also purchase frozen unbaked pies or freeze one of our baked pies. We will supply directions for you. It's really easy and convenient."
Simonson is a third generation Christmas tree farm located in the Plainsboro/Cranbury area. If you are looking to cut your own tree or purchase one of our pre-cut or balled and burlaped trees you will not find a better tree!
Barclay's Tree Farm proudly offers 5 varieties of trees; Fraser Fir, Douglas Fir, Blue Spruce, Norway Spruce, and White Fir.  We also sell decorated and plain Christmas Wreaths, sturdy, well-built tree stands, watering elves, tree removal bags and more.  We have also partnered with bee keepers to sell local honey.
Choose 'n Cut Christmas Trees, Wreaths, Grave Blankets and accessories.