Acting United States Attorney Ellison C. Travis announced that Chief U.S. Judge Shelly D. Dick has sentenced the final two defendants to federal prison following their convictions for conspiracy to commit bank fraud and bank fraud.
The recent sentencings stem from a lengthy federal, state, and local investigation that began in 2017.  The investigation spanned numerous jurisdictions across several states and led to convictions against ten (10) individuals for participating in a fraudulent scheme targeting victims across the Southeast, including more than 100 victims in Louisiana. 
As the charging documents explain, and numerous defendants have admitted, from August 2016 through February 2017, the defendants traveled through numerous states, including Louisiana, where they would break into unattended vehicles, steal the victims' licenses, checkbooks, and credit and debit cards, and then use the stolen items to conduct fraudulent financial transactions at the victims' banks.  As alleged in the Indictment, throughout the course of the conspiracy, in an effort to evade detection and capture, the defendants would monitor social media and other websites for reports of criminal activity attributed to the "Felony Lane Gang," a term often used to describe criminals engaged in this type of scheme, and use the information to plot the courses of their trips.  Across dozens of burglaries and fraudulent bank transactions, between August 2016 and February 2017, the group caused more than $350,000 in loss in Louisiana alone.
Last week, Chief Judge Dick sentenced Michael D. Gibbs, age 29, of Fort Lauderdale, Florida, to 96 months in federal prison following his conviction for conspiracy to commit bank fraud and bank fraud.  The Court further sentenced Gibbs to serve five years of supervised release following his term of imprisonment, ordered him to pay $224,068 in restitution, and further ordered him to forfeit an additional $72,103.36 in proceeds from his crime.  Gibbs joined the group in August 2016, and he often assisted the other members of the conspiracy by providing the female co-conspirators with stolen licenses and other stolen items so that the items could be used to conduct fraudulent bank transactions.  At last week's sentencing, Chief Judge Dick determined that Gibbs played a leading role as an organizer and leader of the conspiracy. 
Yesterday, Geoffrey D. Green, age 37, of Lauderdale Lakes, Florida, was also sentenced to prison, marking the tenth defendant sentenced to federal prison as a result of this scheme.
Through this investigation, the following defendants were prosecuted:
In addition, all of the defendants sentenced to date have been ordered to pay restitution for their crimes and serve terms of supervised release following their release from prison.
Acting U.S. Attorney Ellison C. Travis stated, "The convictions and sentencings of these interstate criminals send a clear message that this type of organized crime will be vigorously investigated and prosecuted to the fullest extent of the law.  I want to congratulate our prosecutors and all of our federal, state, and local partners around the country for their tireless efforts."
"Today's sentencing represents the culmination of a multi-year investigation of an organized ring of individuals who traveled across various states, including Louisiana, to prey on vulnerable citizens and exploit the integrity of our financial institutions.  The FBI will continue to work with our law enforcement partners to dismantle multistate identity theft rings that grossly impact the American people," said Special Agent in Charge Douglas Williams, Jr.  "I would like to recognize the tremendous collaboration and assistance provided by the Jefferson Parish Sheriff's Office, East Baton Rouge Sheriff's Office, East Baton Rouge District Attorney's Office, Florida Highway Patrol and the assigned prosecutors from the U.S. Attorney's Office for the Middle District of Louisiana."
Jefferson Parish Sheriff Joseph P. Lopinto, III stated, "This group preyed on victims across several states for months, but the coordinated efforts of federal, state, and local law enforcement agencies were able to identify and arrest them to stop them in their tracks.  My thanks go out to our partners in federal law enforcement and the U.S. Attorney's Office who helped to bring this coalition of agencies together to bring these perpetrators to justice."
East Baton Rouge Parish District Attorney Hillar Moore stated, "This case represents the success that the criminal justice system can obtain through hard work and collaboration.  The level of detail by the law enforcement agencies in the various cities affected as well as the prosecutorial collaboration by the counties and parishes involved made this effort possible and for justice to be served.  The United States Attorney's Office took the lead in organizing all of these crimes to be handled fairly and efficiently in one court." 
This matter was investigated by the Federal Bureau of Investigation, the Jefferson Parish Sheriff's Office, the Baton Rouge Police Department, the East Baton Rouge Parish Sheriff's Office, Ascension Parish Sheriff's Office, Walker Police Department, Lafayette Police Department, Covington Police Department, Oxford (Mississippi) Police Department, Florida Highway Patrol and Asheville (North Carolina) Police Department.  The investigation has received substantial assistance from the United States Marshal's Service, 19th JDC District Attorney's Office in East Baton Rouge, Louisiana, the Johnson County, Wyoming Prosecuting Attorney's Office, and the State Attorneys' Offices for the 3rd and 17th Judicial Circuits in Florida.
This matter was prosecuted by Assistant United States Attorney Alan Stevens, who serves as Senior Litigation Counsel for the United States Attorney's Office, and former Assistant United States Attorneys Chris Dippel and Cal Leipold.   
Unemployment Insurance Fraud Consumer Protection Guide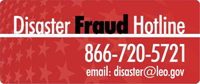 If you have knowledge of fraud, waste, abuse, or allegations of mismanagement involving disaster relief operations, contact the National Center for Disaster Fraud toll free at: (866) 720-5721 or e-mail at: disaster@leo.gov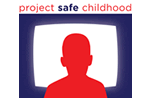 Help us combat the proliferation of sexual exploitation crimes against children.

 
Giving Back to the Community through a variety of venues & initiatives.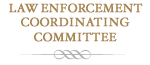 Training and seminars for Federal, State, and Local Law Enforcement Agencies.