NEW ORLEANS, LA – U.S. Attorney Duane A. Evans announced that JOHN WELDON ("WELDON"), age 26, of New Orleans, Louisiana was sentenced to imprisonment on July 28, 2021 by U.S. District Court Judge Lance Africk for charges relating to nine armed robberies of gas stations, convenience stores, and a bank.
WELDON committed armed robberies of three Shell Gas Stations on General de Gaulle Drive, multiple convenience stores in the West Bank and Seventh Ward, and a bank in Algiers.  He brandished a firearm and wore blue gloves in each of the robberies.
Judge Africk sentenced WELDON to 408 months in the Bureau of Prisons, 60 months of supervised release, and $600 in mandatory special assessment fees.  The U.S. Attorney's Office praised the work of the Federal Bureau of Investigation.  The prosecution of the case was conducted by Assistant U.S. Attorneys Kathryn McHugh and Greg Kennedy.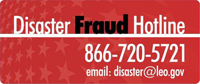 Help us combat disaster fraud.

 
650 Poydras Street, Suite 1600 – New Orleans, LA 70130