WASHINGTON – Herman Cook, 50, of Washington, D.C., was sentenced today to 40 years in prison on first-degree murder while armed and other charges for an early evening shooting in Northwest Washington in August 2016, announced Acting U.S. Attorney Channing D. Phillips and Robert J. Contee III, Chief of the Metropolitan Police Department (MPD).
            Cook was found guilty by a jury in February 2020 of murder and related firearms offenses. The verdict followed a trial in the Superior Court of the District of Columbia. He was sentenced by the Honorable Juliet J. McKenna.
            According to the government's evidence, on Aug. 8, 2016, shortly after 7 p.m., Cook was standing in the parking lot behind the Emery Recreation Center in the 5700 block of Georgia Avenue NW. The homicide victim, Donald Johnson, Jr., drove into the parking lot to meet a friend.  Cook and Mr. Johnson had been close friends decades earlier but became estranged at some point in the early 1990s.  As captured on video surveillance, after Mr. Johnson got out of his car to talk to the friend, Cook walked up to him slowly and, without any provocation, shot him multiple times at point blank range.  Mr. Johnson was struck four times, including twice in the back and once in the neck.  Cook then calmly walked away in the direction of Cook's home on 13th Street NW. Mr. Johnson, 45, was pronounced dead later that evening.
            Cook fled the area on foot.  Evidence indicated that he fled to Baltimore that night. He was arrested on Feb. 21, 2017, in Baltimore and has been in custody ever since.
            In announcing the sentence, Acting U.S. Attorney Phillips and Chief Contee commended the work of those who investigated the case from the Metropolitan Police Department. They also expressed appreciation for the assistance provided by the Baltimore Police Department and the U.S. Marshals Service. They acknowledged the efforts of those who worked on the case from the U.S. Attorney's Office, including Paralegal Specialist Lashone Samuels; Special Agent Nelson Rhone of the Criminal Investigation and Intelligence Unit; Victim/Witness Advocate Marcia  Rinker, and Litigation Technology Specialist Leif Hickling.  Finally, they commended the work of Assistant U.S. Attorneys Michael Spence and Melissa Jackson, who prosecuted the case.

Making sure that victims of crimes are treated with compassion, fairness and respect.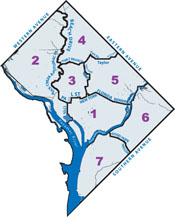 The United States Attorney's Office In Your Neighborhood

 

Our nation-wide commitment to reducing gun crime in America.