NEWS RELEASE SUMMARY – November 18, 2021
SAN DIEGO – Federal judges, prosecutors, defense attorneys, court personnel and veterans' advocates gathered in U.S. District Court today to celebrate the five-year anniversary of a program that offers a second chance to veterans who are facing criminal charges.
The Veterans Diversion Program, which began in 2016, allows qualified veterans to plead guilty, and that plea is set aside until completion of the year-long program. During the year participants are continually evaluated by U.S. Pretrial Services and monitored by the court. That can involve drug, alcohol and mental health testing and treatment, plus employment and education counseling. Participants are required to actively seek or maintain employment or schooling and appear before a magistrate judge at least once a month to discuss progress and monitor compliance.
Since 2016, almost 60 veterans have participated in the Veterans Diversion Program.  Thirty-three veterans have graduated so far, and 21 are currently participating. Not everyone graduates; the program is vigorous and requires hard work and accountability. The program continued despite the pandemic.
"I feel strongly that many who have sacrificed so much for their country should be afforded a second chance when possible," said Acting U.S. Attorney Randy Grossman. "Because of their sacrifices, the country owes them a debt.  And being part of the Veterans Diversion Program is our office's small part in repaying that debt."
Getting accepted into the program is not easy. The U.S. Attorney's Office receives dozens of applications every year.  Those applications are then presented to a committee of 10 federal prosecutors who are also veterans themselves, representing every service. One the committee votes to admit the veteran, that veteran's application is forwarded to pretrial for an assessment. This is a complete team effort: The Veteran's Administration, Pretrial Services, Courage to Call, Wounded Warrior, the mentors, the Court and defense attorneys.
Nine Veterans – from the Army, Navy, Marine Corps, Coast Guard, and the National Guard – graduated in 2021. They were all facing felony convictions for a range of crimes. Some faced mandatory minimum sentences of 10 years in prison.  Like the graduates before them, these nine veterans worked hard, embraced treatment, and then saw their charges dismissed.
The Veterans Diversion Program has its roots in the U.S. Attorney's Office's original "Diversion Program," a groundbreaking effort which was started in 2010 in San Diego County through a collaboration between a criminal defendant, a federal prosecutor, a criminal defense attorney, U.S. Pretrial Services and the U.S. District Court. Under that program, certain non-violent offenders who pleaded guilty to human smuggling charges were afforded the opportunity to go through the program and eventually erase their felony conviction. At the time the program was a first-of-its-kind.
Grossman thanked Magistrate Judges William Gallo and Andrew Schopler for dedicating many hours of their valuable time, in addition to their regular duties as Magistrate Judges, to hold monthly court hearings, roundtables, change of plea hearings, bond revocation hearings, and participate in e-mails and phone calls at all hours to help these veterans succeed.
Grossman said: "This program would not be successful without strong leadership and the unwavering commitment from multiple people and organizations who deserve special thanks. This includes Magistrate Judges Gallo and Schopler; Chief U.S. District Judge Dana Sabraw; as well as several dedicated people from the Veteran's Administration, particularly Joy Villavicencio; Lori Garofalo and her team of outstanding Pretrial Services Officers including Zena Ajou and Justin Garcia; RanDee McLain and her teams from Courage to Call and Wounded Warrior Project; Assistant U.S. Attorneys Blair Perez and Jennifer McCollough; as well as the many defense attorneys including Jami Ferrera, Hector Tamayo, Gary Burcham, and Leila Morgan. Thank you all for making this program a success."
Grossman thanked the Veterans Diversion Program supporters who attended today's celebration: Dr. Robert Smith, VHA Regional Director; Dr. Vito Imbasioni, CalVet Secretary; Virginia Wimmer, CalVet Deputy Secretary- Women Veteran Affairs; Mental Health Systems Inc. CEO Jim Callaghan and Vice President Delrena Swaggerty.
Learn about victim notification and rights, witness information, and helpful resources.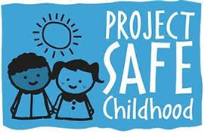 Help us combat the proliferation of sexual exploitation crimes against children.