Assistant U. S. Attorney Kim-Thoa Hoang (619) 546-9397    
NEWS RELEASE SUMMARY – November 29, 2021
SAN DIEGO – To commemorate American Indian and Alaska Native Heritage Month, the U.S. Attorney's Office recently hosted an event to celebrate the cultures, traditions and histories of American Indians and Alaska Natives and acknowledge the tremendous contributions of those communities to the United States.
At the November 19 event, Acting U.S. Attorney Randy Grossman expressed his commitment to working as partners with Tribal nations to reduce crime and help victims. "The Department of Justice is committed to improving public safety in Native American communities," Grossman said. "We stand ready to work with our Tribal partners to develop public safety solutions that work best for Tribal communities in our district."
Grossman noted in his remarks at the event that the U.S. Attorney's Office, through its tribal liaison efforts, has built and maintained partnerships with the tribal communities in San Diego County, as well as fostering a strong working relationship with local and county law enforcement agencies for the investigation and prosecution of criminal activities within the reservations. 
Also attending the event were San Diego County Deputy District Attorneys Joe McLaughlin and Brooke Tafreshi and District Attorney Investigator Juan Cisneros, all  tribal liaison representatives; Sheriff's Captain Mike Rand; Chairwoman Erica Pinto and Councilman James Cuero of the Jamul Indian Village.
Further, in honor of Native American Heritage Month, Chairman Robert Smith of Pala Band of Mission Indians, who also serves as Chairman of the Board of the Southern California Chairmen's Association, offered some remarks remotely and stressed the importance of working with all levels of law enforcement to ensure the well-being of tribal residents.
"The most basic responsibility of tribal leaders," Smith said, "is to provide a variety of social, governmental, administrative, educational, health and welfare services for tribal members.  Over the years, Native Americans have made progress in these areas, but there is much more to be done; we need to continue to dedicate ourselves to improving the quality of life of all of our members.  To this end, we also need to promote strong collaborative relationships with governmental agencies to overcome challenges and attain positive solutions."
This year's celebration featured a first for the U.S. Attorney's Office:  The participation in person of one of the tribal leaders in the district, Chairwoman Pinto of the Jamul Indian Village, who delivered keynote remarks.
Chairwoman Pinto shared her background and experience as a tribal leader and award-winning trailblazer who has accomplished much for the benefit of her Tribe and tribal constituents. She stressed the importance of a partnership approach on the part of tribal leaders and organizations as one of the key attributes of successful leadership in building self-reliance and strengthening tribal sovereignty while contributing to the prosperity of the greater community and celebrating the historical legacy and rich culture of Native Americans.
She said: "Tribal independence and self-determination now guide our Tribe. The ability to exercise our inherent right to sovereignty has allowed my tribal community to engage in the self-sufficiency required to tackle issues like education, housing, health care, and economic development."
Learn about victim notification and rights, witness information, and helpful resources.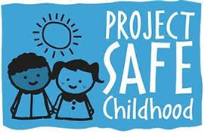 Help us combat the proliferation of sexual exploitation crimes against children.