A man who was involved in two carjackings at apartment complexes in Tulsa was convicted in federal court, announced U.S. Attorney Clint Johnson.
A federal jury found Raul Hernandez-Moreno, 21, of Tulsa, guilty of two counts of carjacking; two counts of carrying, using and brandishing a firearm during and in relation to a crime of violence; and possession of a firearm and ammunition by an alien illegally in the United States.
Codefendants Nicole Marie Rumualdo, aka Nicole Hughes, 28, and Carlos Alfredo Arroliga, 26, both pleaded guilty in November to two counts of carrying, using, and brandishing a firearm during and in relation to a crime of violence. They are scheduled to be sentenced June 2, 2022. Hernandez-Moreno opted to proceed to trial.
"Criminals like Raul Hernandez-Moreno and his associates should take notice. The U.S. Attorney's Office and our law enforcement partners fight for victims and hold violent criminals accountable," said U.S. Attorney Clint Johnson.  "Law enforcement and federal prosecutors Gina Gilmore and Joel-lyn McCormick worked hand in hand to bring this case to trial and secure a conviction. I am proud of their work and dedication to Justice."
On Oct. 26, 2021, Hernandez-Moreno, Rumualdo, and Arroliga were responsible for two carjackings in Tulsa. At 7:30 am, Hernandez-Moreno and his two accomplices pulled alongside a gray 2006 Mazda 3 in the Echo Trails Apartments in Tulsa. The defendants exited their blue SUV, and Rumualdo pointed a loaded handgun at the victim. Hernandez-Moreno blocked the victim from behind. Speaking in Spanish, Rumualdo demanded the victim's wallet and cell phone. When the victim responded that he did not have his wallet and cell phone, Rumualdo snatched the victim's keys. Hernandez-Moreno and Rumualdo drove off in the Mazda, and Arroliga followed in the blue SUV.
A few hours later, the three defendants targeted a maintenance worker in his parked vehicle at Bristol Park Apartments in Tulsa. The victim was preparing to perform repairs at the complex when the defendants pulled into a nearby spot. Hernandez-Moreno then approached the victim and pointed a loaded gun at the victim, ordering him to hand over his money. Hernandez-Moreno then took the victim's keys and drove off in the victim's 2010 gray Chevrolet Silverado. Arroliga and Rumualdo followed in the blue SUV.
Officers were able to locate surveillance footage of the crimes from one of the apartment complexes. The video showed the vehicle used by the defendants, a bright blue Ford Escape with a paper tag and unique license plate frame. The same day of the crime, the blue Ford Escape was observed on Garnett Road, and a traffic stop was initiated because it matched the description of the SUV seen in the surveillance video. Arroliga was driving the vehicle and taken into custody for questioning. On Oct. 27, 2020, Hernandez-Moreno and Rumualdo were found in the stolen Mazda at the Echo Trails Apartment complex. They were immediately taken into custody.
The Tulsa Police Department and U.S. Immigration and Customs Enforcement's Enforcement and Removal Operations conducted the investigation. Assistant U.S. Attorneys Gina S. Gilmore and Joel-lyn A. McCormick prosecuted the case.

Making sure that victims of federal crimes are treated with compassion, fairness and respect.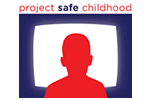 Help us combat the proliferation of sexual exploitation crimes against children.