All across New Jersey, the weekend is upon us.  Normally at this time of year, it means parents heading to the parks to see their kids play soccer, baseball, lacrosse, and softball.  Families would be making their trips to the Jersey Shore to walk the boardwalk and others would be heading to New York City and Philadelphia for a day trip.  None of this is happening under Governor Phil Murphy's flailing socialist experiment during the COVID-19 crisis.  Instead, this weekend, too many people across New Jersey are lining up in their cars outside of their local food banks, such as those supplied by Fulfill.  Fulfill is the former Monmouth-Ocean County Food Bank, headed by former Lt. Governor Kim Guadagno and the team has been extra busy feeding the masses who can't even afford to feed themselves.
Times are getting very tough for many in New Jersey.  1 out of 6 adults are now collecting unemployment and an untold number are caught up in the system, some waiting as long as two months to get their unemployment benefits.    It's the new normal in the Garden State that isn't leaving us any time soon, as Governor Phil Murphy just extended his statewide lockdown an extra 30 days.
In Berkeley Township, Mayor Carmen Amato and his team are working overtime trying to feed those in need in his town.
"I would like to thank the volunteers and staff for their generous help with our latest food drives and distributions," Amato said after many of his residents were able to put food on the table this weekend, thanks to Fulfill and generous donations from the community.  "Our volunteers offer to help make deliveries and sort the food at our Recreation Center, and without them, we would not be able to help those in need during this difficult time.
In Toms River, the lines at the local food distribution sites keep coming as the township and Fulfill.  Instead of teaching children, the town's schools are now critical food distribution centers to feed those who need assistance to feed their families and children.
"There is still a great need for food in our community," the township said. "Toms River and Fulfill will be there as long as needed. Thanks to awesome volunteers who worked at the Ortley Beach parking lot and at East Dover, Walnut St, Citta and So Toms River schools."
Those who can provide at the Jersey Shore have been providing.  Over the past few weeks, generous donations have been made to Fulfill.   Equestra, a Howell based senior community donated enough money to deliver 19,000 meals to Fulfill.  Jersey Strong Gyms donated enough money to buy 10,000 meals.
Guadagno and Fulfill are now facing an unprecedented demand for food across Monmouth and Ocean Counties, delivering a mind-numbing 365,000 meals across their service area, helping to keep local community food pantries stocked and able to feed those who need their help.  One of those pantries is Potters Pantry in Bayville which has been helping the township efforts to keep the town fed.
In the southern part of Ocean County, where many residents work in the Casino industry in Atlantic City, which has been completely shut down, lines for food in the nearby Atlantic County town of Egg Harbor Township stretched for miles, as far as the eyes could see.   Hunger is becoming a pandemic within the pandemic.
Finally, nearly two months into the pandemic, Murphy showed signs of life on the matter.  Today, the governor signed into law a bill that is geared towards fighting hunger in the nation's second-wealthiest state.
"In the richest nation in the world, it is a moral failure that so many of our fellow New Jerseyans don't have enough food to eat," said Murphy. "This comprehensive approach will allow us to leverage New Jersey's strengths to better provide for our residents, so families can provide for themselves and their children."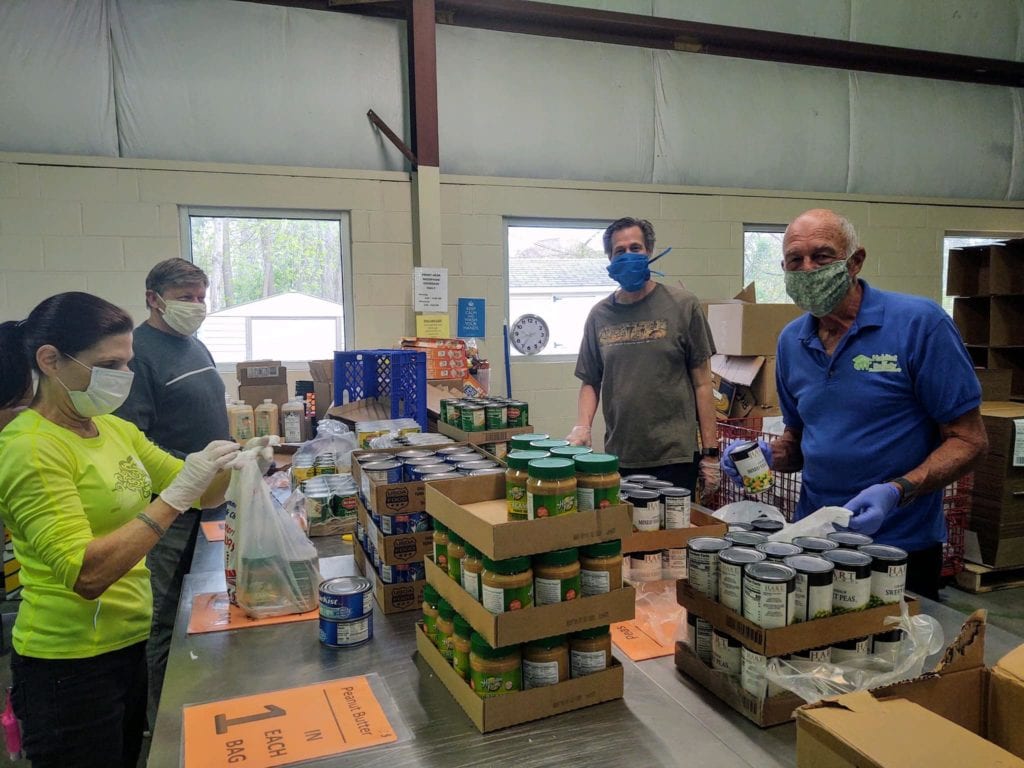 Murphy's press release on the matter was filled with inspiring quotes by Trenton politicians and lacked any real substance other than a promise to update the state app to include more food distribution points.   It also designated Thursday of the third week of September "Food Waste Prevention Day", which doesn't help anyone.  The bill package is essentially a bureaucratic feel-good nothing burger when what New Jersey residents really need is their jobs back…and maybe an actual burger.
---
---