ASBURY PARK, NJ – For nearly one hundred years, a 75-foot-tall Ferris wheel towered over the Asbury Park Boardwalk. Built and installed on the boardwalk in 1895, it was one of four created by the Phoenixville, Pennsylvania-based Phoenix Bridge Company. Today, it's the last one in existence. In 1988, it was removed from the Asbury Park Boardwalk and shipped to an amusement park in Mississippi.
Related News: Worker Killed in Fall From Jersey Shore Boardwalk Amusement Park Ferris Wheel
This week, the Phoenixville Borough Council agreed to allow the Schuylkill River Heritage Center to reconstruct the Ferris wheel as a statue. The dismantled Ferris wheel now sits and is waiting to be reassembled. The borough council and the heritage center expect it will cost around $600,000 to complete the job.
Related News: Jersey Shore Ferris Wheel Lights Up In Support of Ukraine
The Ferris wheel, one of the tallest at the time when it was built was a key attraction at the Asbury Park Boardwalk's Palace Amusements. The Ferris wheel stood out over the seafoam green Palace Amusements center, made famous by Jersey Shore rock legend, Bruce Springsteen.
In 1888, Ernest Schnitzler built the signature Victorian-style 100-foot wide carousel house. It was originally called the Kingsley Street Merry-Go Round. Seven years later, the Ferris wheel was added. The Ferris wheel was unique as riders boarded it indoors and were then raised 75 feet above the boardwalk.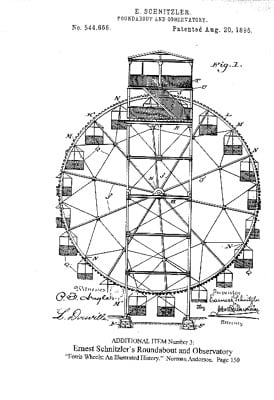 Schnitzler himself designed and patented the Ferris wheel, but once installed he faced early problems with his creation.
According to the Palace Museum Online, "Electrical problems foiled Schnitzler's hopes to carry passengers for the first time on the Fourth of July, 1895 , but after electricians worked through a drenching rain on July 5 to finish their contract, the wheel, spinning at seven revolutions per minute, opened a few days later to excellent reviews. At night, 300 lights shone brightly from the rims of the wheels and another 80 lights illuminated the observatory."