TOMS RIVER, NJ – Toms River parents were outraged at this week's school board meeting and called for the resignation and even arrests of school officials who provided links on the district's official curriculum website that showed pornographic images to the children.
One Toms River parent asked the Toms River Regional School District why the course curriculum for LGBTQ studies involved links to websites that promote pornography and sex to children as young as 10 years old. Warren Crosby, a parent in the district brought to the board's attention links on the school website that promote pornography to the students.
Links on the school district website brought students to websites such as "30 children's books with LGBTQ Characters", "Famous LGBTQ people" and others, but one link was of concern to Crosby. That was a link to the Art History Teaching Resources which had several pornographic and inappropriate lessons for students, including one entitled "QueerArt: 1960s to the Present".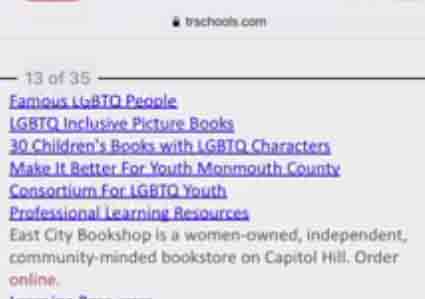 The district has since removed many school curriculum pages from their school curriculum website shown above, but the Art History Resources website remains active. Google also still has a cached version of the district curriculum on its servers.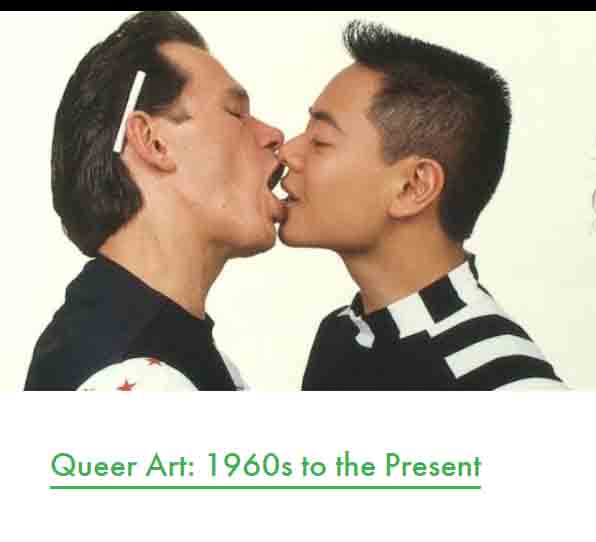 Crosby provided the school board with photos and links from the Toms River School District curriculum website that led to vulgar images of hair-laden vaginas with progressive leftwing messages such as, "You can't legislate it. You can't lick it. You can't beat it. Fierce p-ssy."
Another graphic made available to students through links from the district website had another woman's vagina with a message that read, "Read my lips. Before they're sealed. Reverse the supreme court's ban on abortion information."
Another photo on the Art History Resource website, provided as a resource to students showed naked women having sex in bed. Another showed a man in a suit with his penis exposed.
School Board President Joe Nardini tried to shut Crosby down several times during his statement during the public comment portion of the monthly school board meeting. Nardini worked aggressively to deny Crosby to finish his comments before the public.
"Our curriculum is standards-based. Our focus is always to highlight and promote diversity and inclusion inappropriate place in the K-12 curriculum, as always, we want to create a culture of acceptance by addressing related economic diversity, gender, sexual orientation, race, ethnicities, and religious tolerance," Assistant Superintendent aid Rich Fastnacht said. "Our goal is to create a safe and welcoming, inclusive environment for all of our students. That is our goal," one school district official told Crosby and parents in attendance.
"I would expect it to be criminal if there were naked vaginas, exposed penises, naked women in bed together," Crosby said. "It's in our curriculum for 5th graders. Intended to be viewed by 10 and 11-year-olds."
Nardini told Crosby to stop talking about the matter.
"I'm going to stop you right there," Nardini said to Crosby. "There's women and children watching this. If you have a comment like that, please email us."
"It's in our curriculum for sixth graders," Crosby replied.
"There are families viewing this, I don't like that inappropriate language said," Nardini snapped.
"What did I say that's inappropriate?" Crosby responded. "It's in our curriculum. I think parents would like to hear this. Parents, would you like to hear this?"
"Mr. Crosby, your time is up," Nardini said, shutting down Crosby.
"Mr. Nardini, what's going on here?" he asked. "Are we running a school or sex trafficking operation?"
Crosby then asked police officers in attendance if they could charge anyone who shows the pornographic photos. Police officers were shown the photos on the school curriculum website. Crosby called for the resignation of School Board President Joe Nardini and School Board Vice President Anna Polozzo, who recently served as board president.
"Mr. Nardini, if this is true, when can we accept the resignation of our president and vice president of our school board?" Crosby asked Nardini, the board president. "This has happened under your leadership. I am so disappointed at the leadership of our school board. I can't believe it. Tomorrow morning, I am going to file a criminal complaint with the police department and Ocean County Prosecutor's office. I don't want anymore broad learning on LGBTQ agenda items, because it's not about LGBTQ people, it's coming under the auspices of LGBTQ and you're exposing small children 10 and 11 years old to sexually explicit content."
"Have a good evening Mr. Crosby," Nardinia snarkily replied. "Thank you."
Nardini refused to allow other parents to comment on the matter. Crosby returned to the podium to confront the board about a scorecard on the district website that encourages teachers to read literature to students about drag queens and transvestites.
"The scorecard itself encourages teachers to find material like that over Winnie the Pooh and Very Hungry Caterpillar," Crosby said. "I want to see some accountability, please resign tomorrow."
When other parents asked questions, Nardini said, "I don't want to make this a circus."
School board candidates running for office in next week's election expressed their protest of the curriculum being taught to students in Toms River.
"Instead of teaching children reading, writing and arithmetic. Our schools will be teaching critical race theory, and a sexual education curriculum that is both indecent and inappropriate," said Lynne O'Toole. "Kindergarten is not the place to learn about stimulating yourself, nor is it appropriate to discuss anal sex in 3rd grade. According to the department of education, standardized test scores, graduation rates, and college readiness scores are all below the state average in Toms River. We need to get back to educating children, not indoctrinating them."
Her running mate George Lobman said he is concerned about the direction the Toms River School District's curriculum is headed.
"I've put five children through Toms River Schools, and I'm deeply concerned about the future of our district and what it will be like for my grandchildren. Property taxes and salaries continue to rise, while the quality of a child's educational experience continues to decline," Lobman said.
This story has been updated to add comments from individuals running for school board and corrected an incorrect title as to not imply the call for the resignation was all school board members.